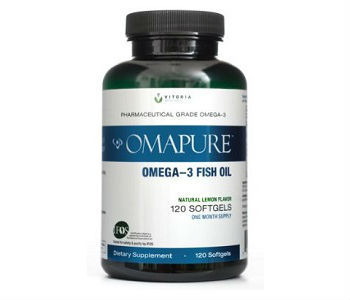 User Ratings (

0

Votes)

0
OMAPURE has one of the purest highest quality Omega-3 supplements on today's market. It has a 70% concentration of EPA and DHA which are the two leading active ingredients in Omega-3. OMAPURE's revolutionary pure concentration signifies that consumers can take less softgels than inferior brands. Higher purification means a better tasting supplement with minimal side effects.
OMAPURE is distilled molecularly and is the only Omega-3 supplement verified by USP (United States Pharmacopeia), the official authority for setting public standards for all prescription and OTC drugs in the United States.
Ingredients
OMAPURE contains the following ingredients:
3,468 milligrams Fish Oil concentrate containing:
Omega-3 Fatty Acids carry a boatload of health benefits that are required for overall health. Omega-3 Fatty Acids are a very beneficial group of polyunsaturated fats that have proven benefits to many areas of health including cardiovascular health, mental health behavioral health.
1700 milligrams EPA (Eicosapentaenoic Acid)
Eicosapentaenoic acid is a highly polyunsaturated fat found in the flesh of cold water fish. It plays a role as an anti-inflammatory. It is used in the treatment of heart disease, blood pressure and diabetes. It also improves the health of the brain and retina.
Docosahexaenoic acid is a highly polyunsaturated fat that makes up 15% to 20% of the brain. It is important for proper brain and nervous system function. It is also important for brain, eye and heart development in infants, children and adults.
Other ingredients included (The manufacturer does not provide exact amounts for these ingredients):
Gelatin
Glycerin
Water
Beeswax
Natural lemon oil
Caramel
Natural tocopherols
 Dosage
The recommended dose for OMAPURE is 2 softgels twice per day with meals (4 softgels per day). The consumer will receive a price discount if ordering 3 or more bottles at a time.
Price
The standard price for OMAPURE is $29.95 for a thirty day supply of softgels (120 softgels). You can also order OMAPURE on the internet.
Guarantee
The reseller offers a refund for the unused portion of the product within 30 days of receipt of purchase. The reseller also includes a contact phone number.
 Conclusion Of Our OMAPURE Omega 3 Fish Oil Review
OMAPURE is expensive if only one bottle at a time is ordered although a price discount is available for bigger orders as previously mentioned. Before purchasing this product, a prospective consumer might want to receive additional information about product warranties and returns. The consumer might also want to have their healthcare practitioner review this product before a purchase.
Bringing you top reviews and product analysis - Consumer Advisors.