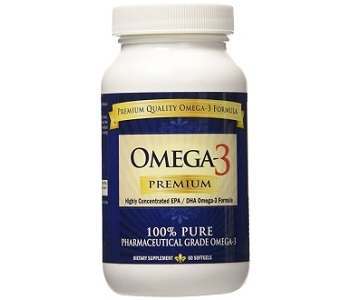 User Ratings (

0

Votes)

0
In today's fast paced world, taking care of yourself by eating a proper diet is often a challenge. Processed foods have become the norm. This is where nutritional supplements come into play. One of the key nutrients our body needs is the fatty acid omega-3 . This nutrient is found abundantly in salmon, seafood, soybeans and spinach, not exactly top ingredients in most people's "now" diet.
This review takes a look at Omega-3 Premium. Omega-3 is one of the essential nutrients our body needs in order to prevent serious health ailments such as heart disease. This supplement aims to provide the daily omega-3 consumption the body needs. Omega-3 Premium is designed to boost both cardiovascular and cognitive health. Read our full Omega-3 Premium review below to get the details.
Ingredients
Omega-3 Premium contains EPA (Eicosapentaenoic Acid – 800mg) and DHA (Docosahexaenoic Acid – 600mg) as well as other types of omega-3 fatty acids (100mg). It contains no artificial ingredients. This guarantees that you get the optimum amount of omega-3 fatty acids every day.
Dosage
The recommended dosage of omega-3 fatty acids for adults is 1,500 mg per day. This means you should take two Omega-3 Premium capsules per day, preferably during a meal. It is also recommended that you drink plenty of water as well to help facilitate the absorption.
Possible Side Effects
While there are no reported side effects of taking Omega-3 Premium, or any other omega-3 supplements for that matter, it is best to stay within the recommended daily dosage. Please be advised that 3,000 mg per day is the upper limit for this supplement. Do not exceed this level in order to prevent any possible side effects from developing.
To help ensure your safety, we urge you to always consult with a health professional before taking any kind of supplement or medication.
Price
Omega-3 Premium contains 60 capsules and is enough for a month's supply. At the time we researched this review you could buy it for $49.95 per bottle. A bit expensive but the manufacturer does offer this product with discounted monthly supply packages. They offer a 3-month supply at $90 ($30 per bottle), a 4-month supply at $112 ($28 per bottle) and a 6-month supply for $138 ($23 per bottle).
Guarantee and Feedback
Omega-3 Premium comes with a serious 90-day money-back guarantee. Any used as well as unopened bottles can be returned within the 90-day period for a refund (excluding shipping charges). This gives you plenty of time to test it and also means you can order a multi-bottle discounted package with minimal risk.
The overall feedback from customers on Amazon at the time of writing was positive in the extreme, with 95% positive ratings and only 2% negative. Those kind of numbers are not common on Amazon.
Our Conclusive Review about Premium Certified Omega-3 Premium
Overall, Omega-3 Premium is definitely a worthwhile supplement to take. Its ingredients should help prevent heart disease and keep your brain firing at optimal levels. The customer-friendly money-back guarantee and discounted monthly supply options make this product one we can recommend.
Bringing you top reviews and product analysis - Consumer Advisors.