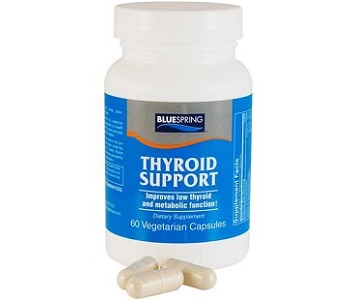 User Ratings (

0

Votes)

0
Read our detailed review on the product Thyroid Support, manufactured by Blue Spring. It is claimed by this company that this supplement will improve low thyroid as well as metabolic function. More so, the company claims that this product will increase energy levels, enhance a positive mood and sustain a healthy stress response. Read our review for more.
Ingredients
Vitamin A (palmitate)
Vitamin C (ascorbic acid)
Vitamin D (cholecalciferol)
Vitamin B-6 (pyridoxine HCI)
Folic Acid
Kelp (Iodine)
Magnesium (oxide, amino acid chelate)
Zinc (monomethionine) from L-Opti-Zinc
Selenium (selenomethionine)
Copper (amino acid chelate)
L-Tyrosine
Green Tea (Camellia sinensis) Leaf Extract
Gugulipid (commiphora Mukul) Resin Extract
Bacopin (Bacopa monniera) Leaf Extract
Other ingredients: vegetarian capsules (cellulose, water), cellulose, magnesium stearate and silica. The ingredients such as vitamin A, zinc, and kelp helps in the conversion of T3 into T4. Selenium, in turn helps to convert T4 hormone into the active form T3. Magnesium helps muscles to relax, more so this element if lacking was found to be linked to heart disease, the formulation of blood clots and depression. An overactive thyroid can also be caused by a lack of magnesium.
Dosage
The manufacturer suggests a dosage of two (2) capsules daily. The maker does not declare whether the supplements should be taken with or without food or drink, nor does the maker of this product indicate if the capsules are best taken in the morning or afternoon, or even one capsule in the morning and the other capsule later in the day.
Price
A 60-capsule bottle is available directly from the manufacturer's own website. Thus, online, this product is being sold for the price of $27.95. This maker does not offer any package deals with discounts.
Guarantee
The manufacturer does offer 60-day guarantee. As part of this guarantee a buyer can get a refund (minus shipping and handling fees) without having to return the supplement. However, this guarantee is limited to a consumer's first purchase and if they brought one item only. In other cases, such as repeat purchases, this guarantee does not apply.
Blue Spring Thyroid Support Review – Conclusion
On first glance Thyroid Support seems like a useful product as it comes with a 60-day money-back guarantee and it contains many of the key ingredients that helps to support a healthy thyroid. That said, there are also some concerns. Firstly, the guarantee, with closer investigation, is only applicable on the first purchase a consumer has made. If they had brought a different product previously, they do not qualify for this guarantee from the manufacturer. Secondly, the maker does not offer any discounts or package deals on these supplements which would have made this product more economical over the long term for the end user. Thirdly, the dosage is too vague. This implies that the end user will not follow a path that could lead to optimal health benefits. As such, and with so many other similar thyroid health supplements on the market, it might be best to investigate one of those instead of this for better value and quality.
Bringing you top reviews and product analysis - Consumer Advisors.