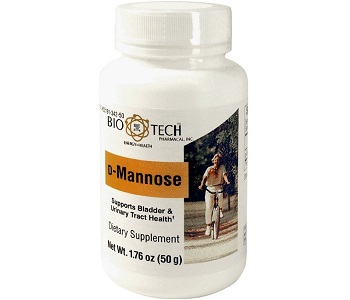 User Ratings (

0

Votes)

0
This review is for D-Mannose (Powder) that will inform you of the facts. This product claims that it is formulated with a pure, natural ingredient that will greatly benefit and maintain the health of your bladder and urinary tract while also claiming not to have any influence on your blood sugar levels.
Ingredients
D-Mannose is a simple sugar that can be found in many fruits such as cranberry and may increase the growth of good bacteria in your digestive system, therefore, helping to create balance of good and bad bacteria, it is thought to work by preventing bad bacteria from being able to stick to the walls of your bladder and also encouraging your body to naturally pass them through your urine. Unfortunately, research suggests that there may be some side effects of this ingredient such as bloating and loose stools.
Dosage
The manufacturer suggests that adults should take half or a full teaspoon along with 6 oz of water per day. It is advised that children should take a quarter to half a teaspoon also along with 6 oz of water daily.
Possible Side Effects
There are no listed side effects for this product although, research cautions that the key ingredient used may possibly cause bloating and or loose stools and we advise that if you experience these symptoms, it may be a good idea to consult a doctor as a health precaution. This product is cautioned that it should be kept away from children. If you are pregnant or breastfeeding, it is also probably a good idea to first consult a doctor as research does state that the key ingredient may not be suitable for you.
Price
You can purchase this product online for $31.98 directly from the manufacturer's website, this price is for a bottle that contains 50 grams of powder. There are, unfortunately, no discounted options available which may be disappointing as this is a somewhat costly product.
Guarantee & Feedback
The manufacturer does offer a full money back guarantee that is valid for 30 days from your purchase, minus any shipping fees and are unfortunately also subject to a 20% restocking fee. It is also disappointing that it seems that they will only refund you granted that you have not opened or used the product. The customer reviews available on the product's website unfortunately only seem to speak well of the other products the manufacturer offers and unfortunately, it appears there is no reviews for this product.
Our Conclusive Review About BioTech D-Mannose
Based on this product using a good, natural ingredient that may be beneficial to assist with urinary tract health that it is safe for children to use, it may be considered to be an ok product. It is disappointing that the money back guarantees offered by the manufacturer seems to only apply to sealed and unused products and a lack of guarantee for the results after using this product may suggest that it could not be an effective product. This is also a fairly expensive product which is worrying when considering that you will not get your money back if you are not completely happy with the results after using it. There also seems to be no customer reviews available which also affects the judgments of the effective results and quality of this product. D-Mannose Powder, unfortunately, is not the best product out there, we suggest that you consider other more suitable similar products.
Bringing you top reviews and product analysis - Consumer Advisors.