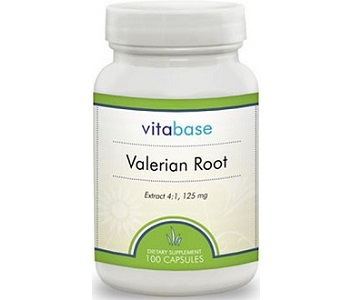 User Ratings (

0

Votes)

0
The following review is an in-depth look at a product called Vitabase Valerian Root. The manufacturer claims that this product offers sleep support to those suffering from insomnia and other sleep disorders; reducing stress and anxiety, promoting longer sleep, and relaxing the nervous system. This review will examine the likelihood of this product as a total care insomnia solution; assessing everything from ingredients to customer support.
Ingredients
This product contains Valerian root extract, a concentrated substance gained from the Valeriana officinalis which are found in India and West Asia. This plant has been used since ancient times for its many soothing benefits; which relieve anxiety, headaches, nervous tension, insomnia, and act as a mild natural tranquilizer. Valerian root is also known to promote the quality of sleep, helping people fall asleep faster without the feelings of drowsiness the next day. It is unfortunate, however, that this product is missing other key active ingredients known to support insomnia and regulate moods – such as Melatonin and lemon balm. While this product does not contain artificial ingredients, sugar, salt, soy, preservatives, dairy, and other potential allergens; it does, however, contain fillers like rice powder which are ineffective and may reduce the efficacy of the product. There is no mention if this product is vegan-friendly or cruelty-free. Furthermore, it does not state it was produced in a GMP certified facility. Quality and ethical processes may not have been a priority.
Dosage
This product contains 125 mg of Valerian root extract, which is equivalent to 500 mg of valerian root. This is an adequate concentration as it falls within the recommended daily serving of 400 mg to 900 mg taken 2 hours before bed. To take this as a dietary supplement, consume 1 capsule with food. This should be repeated 2 to 6 times daily. The manufacturer does not state recommended times but does state that a doctor should be consulted before commencing use.
Possible Side Effects
The manufacturer states that this product only results in fewer side effects, but does not provide the symptoms to look out for. This is concerning. It is known that valerian root could have interactions with other types of sedatives, narcotics, alcohol, anti-seizure medication, and antidepressants. Consult a doctor before use, especially if you experience liver issues. It is also worth noting that this sedative should not be taken before driving or operating heavy machinery – which was also neglected to be shared by the manufacturer.
Price
A bottle of these supplements can be purchased directly from the Vitabase website. 1 bottle contains 100 capsules and retails for $8,80. There is a package offer available, purchasing 4 units for $26,40. While this price may be appealing, the cheap cost may imply low-quality ingredients used.
Guarantee & Feedback
There is a 100% money-back guarantee that applies over 60 days from purchase. Only 1 single opened container will be accepted per individual. The customer is responsible for shipping fees and may pay a 10% restocking fee. Unfortunately, there are too few reviews for us to comment on the customer satisfaction of this product.
Our Conclusive Review About Vitabase Valerian Root
Vitabase Valerian Root is an accurately dosed product that has been known to support and relieve insomnia. The price is also very cheap but makes us wonder what cost will be incurred to the customer. There is no GMP certification to ensure quality processes or if quality ingredients where used. While the guarantee is extensive, the lack of customer reviews and overall customer consideration is concerning; especially since the manufacturer omitted important safety information from their website. In saying so, we do not recommend this product.
Bringing you top reviews and product analysis - Consumer Advisors.