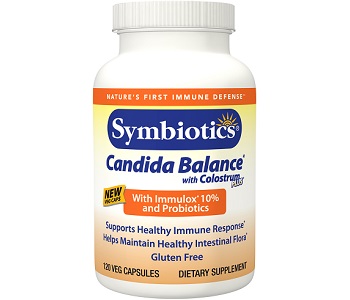 User Ratings (

0

Votes)

0
The following is a review for a dietary supplement from Symbiotics that is called Candida Balance with Colostrum Plus. This dietary supplement helps the body maintain normal levels of Candida Albicans bacteria. An excessive amount of these bacteria can cause candidiasis, yeast infection, thrush and bacterial vaginosis. Although yeasts are important for the proper functioning of the digestive system and vagina, excess amounts lead to serious problems. The addition of Colostrum improves the immune system that helps your body fight off yeast and fungal infections more effectively.
Ingredients
According to the manufacturer, this product contains colostrums from pasteurized cow's milk, a proprietary blend of probiotic bacteria, and lactoferrin. This product also contains rice flour, medium chain triglycerides, sunflower lecithin and vegetable capsules. Although this is a rather good combination of ingredients, we always look for a supplement that contains Vitamin C, Vitamin B complex, Calcium, and Fructo-oligosaccharides. We were also rather concerned about the fact that this product contains quite a few additional ingredients that act as preservatives, fillers, and binders. Although this product is suitable for vegetarians the inclusion of milk in the formula means that people who follow a vegan diet should avoid it.
Dosage
A single serving of this supplement is two capsules. The manufacturer recommends that you take two capsules twice daily. According to the manufacturer, you should take this supplement on an empty stomach to ensure that it absorbed into your bloodstream correctly. They also recommend that you take six capsules twice daily in times of severe physical or environmental stress to provide your body with additional support.
Price
You can buy this product directly from the manufacturer on their online store. A bottle, which contains 120 capsules, costs $26.49. One bottle should last you about a month if you stick to the recommended dosage. Sadly, there are special offers or discounts for bulk purchases available for this product.
Guarantee & Feedback
Unfortunately, the manufacturers of this product do not offer any guarantees or return policies for this product. We were rather concerned to discover this as guarantee always reassures us that the manufacturer is confident in their product. A guarantee indicates that the company believes they are producing the best possible product. An additional concern we had when we were completing our research was that we were unable to find any customer reviews for this product. This means that you cannot find any honest opinions on the efficacy of this product.
Our Conclusive Review About Symbiotics Candida Balance with Colostrum Plus
In this review of Candida Balance with Colostrum Plus, we concluded that this was a rather good product that restores the health of your intestines. It contains a good blend of ingredients that include colostrums from cow's milk as well as probiotics. This product is also available at a reasonable price. However, you should consider a few things before you purchase this product. This product lacks many of the important ingredients we look for in a product like this. We were also alarmed by the lack of any guarantees and the absence of customer reviews on the manufacturer's website.
Bringing you top reviews and product analysis - Consumer Advisors.