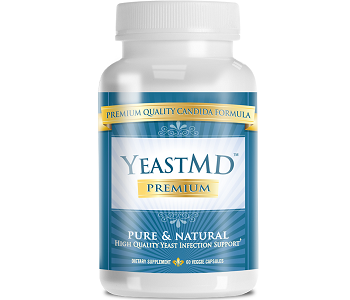 User Ratings (

0

Votes)

0
This is a review of an excellent product on the market called Premium Certified YeastMD. The aim of the supplement is to help maintain a regular balance of yeast and bacteria in the body, to relieve the symptoms associated with yeast infections, and to reduce the risk of future complications or recurrence. Keep on reading to see what other benefits Premium Certified YeastMD holds and if you should try it.
Ingredients
Premium Certified YeastMD contains a list of 11 key ingredients for the treatment and symptom relief of a yeast infection. Unlike other supplements, this supplement contains 5 Strains of Probiotics, Undecylenic Acid, and a Vitamin C and B Complex. These are essential to help balance the bacteria and yeast in the body, whilst also providing the body with the correct probiotics and bacteria. Another added benefit is that the product is vegan friendly and all-natural, and that it does not contain additives, preservatives, binders, or fillers.
Dosage
The user is recommended to take 2 capsules per day as a dietary supplement. For customers who wish to see best results, it is recommended to take one capsule in the morning and one capsule in the afternoon. Each bottles contains 60 veggie capsules, thus it will last for one month.
Price
The price of the product is clearly provided on the manufacturer's website. Here you can also make an online purchase. It is also relevant to know that there are several package deals to choose from depending on your need. Also, the manufacturer has provided a discount on each bottle you purchase which offers savings of up to $270.
1 month supply costs $48
3 month supply costs $91
4 month supply costs $112
6 month supply costs $138
Guarantee & Feedback
First time customers can try the product, see if it works or does not work, and return it for a full refund if they are not completely satisfied. This is provided the bottle is returned within 90-days from the purchase date. A full refund will be issued for bottles that are sealed as well as opened bottles and used products, excluding shipping costs. Not many manufacturers can provide such a strong guarantee. It shows that they have a lot of confidence in the product and the effectiveness thereof. Based on feedback of the product, we too feel confident as the product is backed by clinical studies and extensive research.
Our Conclusive Review About Premium Certified YeastMD
We are very happy about our research concerning the dietary supplement Premium Certified YeastMD. It has proven to be the best yeast infection supplement on the market by far. This is because it ticks all the correct boxes when it comes to ingredients, price, usage, and guarantee. First of all, the product provides a high-quality, all-natural, clinical based ingredients list that has been carefully selected to only provide the necessary ingredients to ensure the best results. Furthermore, the manufacturer has provided the customer with the option of cost effective bundle deals. Finally, there is also a solid guarantee offered by the manufacturer. As a result, we highly recommend the use of Premium Certified YeastMD.
Bringing you top reviews and product analysis - Consumer Advisors.