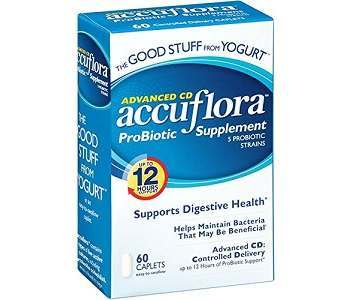 User Ratings (

0

Votes)

0
Probiotics are naturally found in our bodies and line the digestive tract to help move food through your system, absorb nutrients, and fight infection. Probiotics can even help with common digestive issues like IBS (Irritable bowel syndrome), IBD (Inflammatory bowel disease) and diarrhea caused by parasites or bad bacteria. However, due to unhealthy diets or taking antibiotics for extended periods of time, your natural gut flora will become unbalanced and you may need to take a probiotic supplement. Adding a probiotic to your diet will give you a whole range of benefits. Such as helping your body heal from leaky gut syndrome, improved digestion, higher energy levels, and better skin. We will review the Accuflora Advanced CD Probiotic Supplement, and take a look at the ingredients and effectiveness of their formula.
Ingredients
These caplets contain the following ingredients: Lactobacillus acidophilus, Lactobacillus rhamnosus, Bifidobacterium bifidum, Lactobacillus salivarius, Streptococcus thermophilus, Sodium, microcrystalline cellulose, hydroxypropyl methylcellulose, pectin, guar gum, silica dioxide, stearic acid, and turmeric.
Dosage
Their label states that as a dietary supplement, you can swallow two caplets up to 2 times per day. Do not crush or chew. Additionally, the capsules provide only 12 hours of probiotic support.
Possible Side Effects
There is a possibility of mild side effects in the first few days of taking probiotics. Including an upset stomach, diarrhea, gas, and bloating. Some people may experience an allergic reaction. Always talk with your doctor before taking any supplements or medication.
Price
Each bottle comes with 60 capsules. Taking two capsules twice a day means a bottle will last you less than one month. You can purchase this product on Amazon for $9.88 or a pack of two for $24.95, which is more expensive than the original price. Other third party websites sell this product for $8.99.
Guarantee & Feedback
We could not find any refund or return policy for this product. Always use caution when purchasing a product without any clear policies, If you are unsatisfied with the product it is unlikely that you will get any money back.
The majority of reviews we found for this product were positive.
Our Conclusive Review About Accuflora Advanced CD Probiotic Supplement
There are literally thousands of companies that make probiotics each claiming they have a better formula than the next. Accuflora Advanced CD Probiotic Supplement has an advanced formula containing many important bacteria for optimal gut health. They also indicate that they have over 1 Billion good bacteria per serving at the time of manufacture. Although this product does contain beneficial bacteria, there were mixed reviews regarding the effectiveness of the product. Some people had positive experiences while others complained of diarrhea and pain in the abdomen. Another couple of concerns about this company is the lack of a refund policy which does not give customers confidence in the brand. Additionally, the cost per bottle is quite high compared to other brands. This Accuflora Advanced CD Probiotic Supplement only contains 60 capsules which are meant to be taken as two capsules twice per day, at this rate your bottle of probiotics will only last two weeks.
Bringing you top reviews and product analysis - Consumer Advisors.