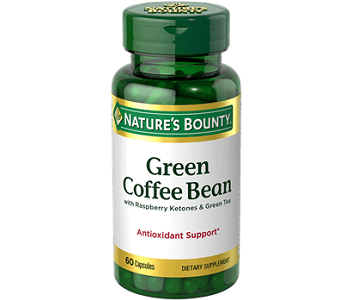 User Ratings (

0

Votes)

0
People have turned to all sorts of supplements to make losing weight easier. One of these supplements is green coffee bean supplements. Green coffee beans are unroasted coffee beans that are packed with a compound called chlorogenic acid. Chlorogenic acid is believed to be the element responsible for weight loss. This review examines Nature's Bounty Green Coffee Bean. This product claims to be packed with antioxidants. It also contains raspberry ketones and green tea extract.
Ingredients
This supplement contains a 1500mg blend of green coffee bean extract, raspberry ketones, and green tea extract. These are all well-known products for losing weight. The chlorogenic acid in the green coffee beans is what gives it its weight loss properties. This product only contains 45% chlorogenic acid while the recommended percentage for effectiveness is 50%. These three ingredients are believed to help increase metabolism and also regulate blood sugar levels. The problem with a proprietary blend of ingredients is that we don't know exactly how much of each extract is in the product.
Dosage
It is recommended to take three capsules a day, before a meal. It is important to stick to this dosage and not exceed it.
Possible Side Effects
This product is not intended for those who are sensitive to caffeine. The manufacturer warns against consuming products that contain caffeine while taking this product as it may lead to side effects. The product contains about 150 mg of caffeine per serving. It is not recommended for pregnant and nursing women to take this product. Those who are taking other medications should consult a doctor before taking this product. You can also find a physical store at a location near you.
Price
The manufacturer does not sell this product directly, but they provide a list of online retailers where you can buy the product. The price ranges from $12 to $18, though most retailers seem to sell closer to the $12 end. You will have to check the different retailers to see if there are any special offers.
Guarantee & Feedback
We could not find any manufacturer's guarantee for this product. This is a disappointment as it leaves you with no recourse if the product does not work for you.
There are no reviews on the manufacturer's website despite their being space for them. The reviews we found on Amazon are mixed. There does not seem to be any guarantee this product will work for you.
Our Conclusive Review About Nature's Bounty Green Coffee Bean
While this product seems to be a good blend of different popular weight loss ingredients, the quantity of each ingredient may not be enough to produce results. The 45% chlorogenic acid is lower than most other green coffee bean supplements on the market and this can have an affect on the effectiveness. If this product does not end up working for you, you will have no course of action as the product does not come with any money-back guarantee. We think you may be better off looking at a product with a higher percentage of chlorogenic acid and that comes with a money back guarantee.
Bringing you top reviews and product analysis - Consumer Advisors.