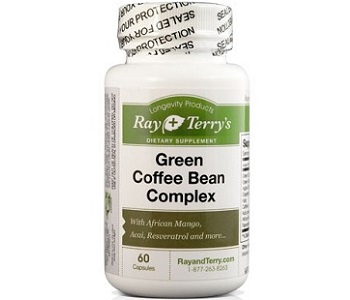 User Ratings (

0

Votes)

0
This is a review for a dietary supplement from Ray and Terry's that is called Green Coffee Complex. This product supports weight loss and the reduction of fat in the body. It also supports healthy blood sugar levels, which also facilitates weight loss. As this supplement contains extracts from green tea as well as green coffee, it creates a thermogenic effect in the body. When your body enters a state of thermogenesis it metabolizes energy and stored fats more efficiently.
Ingredients
Our research indicates that the primary ingredient in this dietary supplement is green coffee bean extract. It also contains a variety of thermogenic ingredients like green tea extract, powdered apple cider vinegar, grapefruit, and kelp to name a few. This seems like a good list of ingredients that promote fat loss. However, we were concerned to note that this product also contains magnesium stearate and Stearic acid, which are preservatives. Those who suffer from food allergies should take care as this product is manufactured in a factory that processes known allergens.
Dosage
The manufacturer of this product state that one serving size of this product is one capsule. They recommend that you take one or two capsules per day. Due to the high caffeine content in this product, you should not be taking it at night. Unfortunately, the manufacturer does not state if you should be taking this supplement with a meal or not. This information is rather important as it can influence how your body absorbs this product. Our research also seems to indicate that this dosage is on the lower range.
Price
You can buy this product directly from the manufacturer on their online store. A bottle, which contains 60 capsules, costs $25.95. One bottle should last you about a month if you adhere to the maximum recommended dosage. Sadly, there are special offers or discounts for bulk purchases available for this product.
Guarantee & Feedback
Unfortunately, the manufacturers of this product do not offer any guarantees or return policies for this product. We were rather concerned to discover this as guarantee always reassures us that the manufacturer is confident in their product. A guarantee indicates that the company believes they are producing the best possible product. Unfortunately, there was only one review available for this product on the manufacturer's website. However, we have our doubts about the reliability of this review as it was written five years ago and seems overtly positive.
Our Conclusive Review About Ray And Terry Green Coffee Complex
As we completed this review about Green Coffee Complex, we concluded that it was a perfectly acceptable product that can be used in a weight loss program. This product includes extracts from green coffee and green tea, which help the body burn fat. Additionally, this product is available for quite a reasonable price. Sadly, we were unimpressed by a few things related to this dietary supplement. This product does not provide the minimum daily requirement for it to work effectively. Additionally, there are no guarantees available for the consumer who purchases this product.
Bringing you top reviews and product analysis - Consumer Advisors.