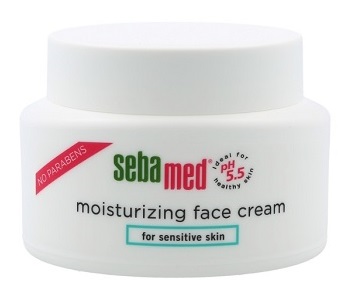 User Ratings (

0

Votes)

0
Sebamed says it has produced a light, moisturizing face cream that leaves your skin soft, supple and hydrated. It purportedly strengthens your skin's natural barriers so that it protects itself. The dermatologists who are behind the formula assure you that the cream is able to be worn by the most sensitive of skin types. The manufacturer says the cream is rich and fortified with vitamin E in particular.
Ingredients
The foregrounded ingredients are:
Vitamin E
Glycerin
cetearyl alcohol
Petrolatum
Water
dimethicone
Vitamin E, as the manufacturer points out, is a key anti-free radical agent, so it seeks out and destroys that which tries to break down cells and induce the look of aged, dry, rough skin. Equally important in combination though with Vitamin E is Vitamin C, as it fights inflammation (which causes spots), and together, these two agents also stimulate collagen production. Glycerin and Cetearyl alcohol are fatty substances in nature, so together with the petrolatum and water, they form the barrier the manufacturer talks about and lock in the moisture. Dimethicone is a form of silicone used to seal in moisture. The best moisturizers used medical-grade silicone, and we are not told that this is so in this instance. Clinically proven natural ingredients which have not been included – and would have increased hydration levels plus the depth of below-skin penetration at which the ingredients could work – are Shea Butter and Sweet Almond oil.
How To Use
The instructions say simply to apply the cream to your face and neck after cleansing it. There is no indication if you should use it more than once a day, need to use toner before or also need to use sunscreen. These are all important bits of information missing that could affect efficacy.
Price
You'll be able to purchase the 75 ml tub for $14.99 from the web store; if you go the auto-ship route there is a 10% discount. Despite encryption technology, auto-ship payments remain risky in that once you opt-in, it is usually difficult to cancel. This remains true for consumers in general. Your other option to qualify for discounts over time involves signing up for the rewards program.
Guarantee & Feedback
A 30-day returns policy is in place so you will be refunded should you not be satisfied with the product, although you have to cover the flat shipping fee. You may apply for a return after 30-days but it will only cover you in the event that you made an in-store purchase. You'd then find receive store credit. It's not clear how long a time you have in which to initiate such a return. The product does tend to get its fair share of good reviews. Do note though that these are from people with sensitive skin conditions and not normal or combination skin.
Our Conclusive Review About Sebamed Moisturizing Face Cream For Sensitive Skin
The product is cruelty-free and specifically formulated to be pH-compatible not only with sensitive skin but also with super-sensitive skin. If you're a rosacea sufferer, for example, you may find it difficult to find cosmetic products that don't further inflame your skin so it is comforting to know that this moisturizer has been engineered to work for you, not against you. Care has also been taken to ensure that the product is cruelty-free. The high emphasis on Vitamin E must be commended as this should be a key ingredient in every moisturizer as clinically shown.
It goes a long way towards repairing damaged cells and insulating the skin against further damage. The manufacturer does not agree though that natural is better in all instances, and has chosen to use a mix of natural and synthetic ingredients, as long as they make for what is considered to be the best formula. It is also probably why the cost of this product is inexpensive compared to most – in the long run, it has been shown that synthetic ingredients are mostly harmful to your skin. The manufacturer also does not offer proof of cGMP certification, raising questions about production, to what extent the formula may include contaminants, and to what extent it may simply and plainly differ from what is stated. Therefore, if you are looking for an all-natural product, this is not the skincare item for you. We don't see how this cream goes far enough regarding hydration or rejuvenation – key clinically proven ingredients are missing, there is not enough to stimulate the production of hyaluronic acid (the best for retaining moisture), and the formula is far from adequate in stimulating collagen production and keeping skin young looking long term.
Bringing you top reviews and product analysis - Consumer Advisors.