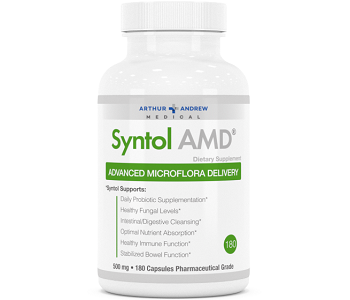 User Ratings (

0

Votes)

0
The following review of Arthur Andrew Syntol examines the facts you need to know before purchasing this product. The manufacturer claims that this scientifically formulated combination of enzymes, prebiotics, and probiotics might be the answer to candida overgrowth as it might enable the consumer to build up a defense against candida. The manufacturer's formulation may also alleviate problems such as poor memory and concentration, immune response and bowel irritation, fatigue and irritability, bloating, constipation, and diarrhea which are all caused by an overproduction of candida.
Ingredients
B. subtilis
L. helveticus
S. boulardii
L. acidophilus
Saccharomyces boulardii
L. rhamnosus
L. Plantarum
L. lactis
B. bifidum
Isomalto-Oligosaccharide (IMO, prebiotic)
Digestive Yeast Cleanse
Bacillus subtilis is a bacteria that supports the intensity of beneficial bacteria. Lactobacillus helveticus and Saccharomyces boulardii are probiotics that stimulate the immune and digestive system. Lactobacillus acidophilus, Lactobacillus rhamnosus, and Lactobacillus plantarum are healthy bacteria that produce lactic acid and they compete with the candida. Bifidobacterium bifidum is a very potent probiotic for the balance of microflora in the intestines, it naturally resides in the colon and vagina. IMO is prebiotic that improves the digestive health. Digestive Yeast Cleanse is a blend of protein-digesting enzymes, however, proprietary blends are a disadvantage as we are not certain if an effectual concentration of each ingredient is used.
Dosage
One to two capsules to be taken per day with 8 oz of water on an empty stomach. To reach the desired daily dosage for maintenance purposes two to four capsules may be taken per day, for increased support six capsules may be taken per day and for therapeutic support, nine to 12 capsules may be taken per day.
The manufacturer gives a warning that consumers taking anticoagulants should consult with a doctor before taking this product.
Possible Side Effects
The only side effect recorded by users are stomach aches.
Price
This product is available for purchase directly from the manufacturer's website as well as third-party retailers and comes in a variety of quantities which is listed below:
One container of 90 capsules at a price of $39.99
One container of 180 capsules at a price of $69.99
One container of 360 capsules at a price of $129.99
Guarantee & Feedback
The manufacturer offers a 30-day guarantee on unopened items. If the item has been purchased directly from the manufacturer and the consumer is dissatisfied with the product, it may be returned for the money back or exchange, however, if the product has been bought through a third-party distributor the consumer will have to follow the specific guarantee specifications of that retailer. The timeframe in which you have to return the product is rather disappointing, as most leading manufacturers offer an additional 335-day money back guarantee.
Our Conclusive Review About Arthur Andrew Syntol AMD
The manufacturer has only used natural ingredients which will be a benefit to the consumer but the proprietary blend is a concerning as we are not certain if an effectual concentration of each ingredient is used. it is also concerning that the guarantee offers a much shorter timeframe when compared to other manufacturers. Based on our findings and the facts in this review,  we suggest looking for an alternative product that is backed by a strong guarantee and contains ingredients that are proven to combat yeast infections.
Bringing you top reviews and product analysis - Consumer Advisors.