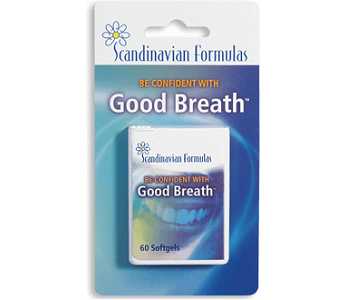 Quality of Ingredient

6.5

User Ratings (

0

Votes)

0
The following review is on a product called Scandinavian Formulas Good Breath. This supplement claims to support fresh breath my cleansing the digestive system, offering a solution for coffee and cigarette breath. This review will look at a variety of aspects, such as ingredients and customer support, to help you decide if this product is the best purchase choice for bad breath and body odor supplements available.
Ingredients
Parsley Seed Oil
Sunflower Seed Oil
Parsley is a favored ingredient for body odor and bad breath solutions as it contains detoxifying chlorophyll, is a natural antibacterial, as well as an effective deodorizer. Sunflower Seed Oil is a less popular deodorizer but can have some positive effect in nourishing intestines and supporting the digestive system. However, this product may not be as effective as competing brands as it seems to be lacking important ingredients that support long-term freshness. One such ingredient is the probiotic, L.acidophilus. This substance helps balance pH levels while promoting good bacteria in the gut; sustaining a healthier digestive system and preventing the formation of body odor like bad breath. This product is free of sugar, starch, preservatives, dairy, sodium, and yeast. It is also free of a GMP certification, which is not necessarily a good thing. The GMP certification gives customers peace of mind that quality processes were used during manufacture; implying that that may not have been the case for this particular product.
Dosage
This product's concentration of key active ingredients seem adequate, however, the absence of popular and efficient ingredients is a concern and will certainly impact the product's efficacy. There are not very clear instructions on how to take this supplement available on the manufacturer's website. We assume that 3 softgels should be taken per serving once a day. We recommend taking this after food and with plenty of water. Furthermore, there are no safety precautions attached, however, we suggest discontinuing use if any adverse or unwanted side effects occur.
Price
This product cannot be bought from the manufacturer's online website, only third-party distributors. For a pack of 60 softgels, which would last 20 days, you can expect to pay $7,84. There appear to be no package offers or discounts available.
Guarantee & Feedback
It is unfortunate to note that Scandinavian Formulas do not offer a manufacturer's guarantee or returns policy to support customers. This, combined with absent customer reviews, is highly concerning and does not instill any confidence in the efficacy of this product.
Our Conclusive Review About Scandinavian Formulas Good Breath
This product contains ingredients that may be effective in relieving bad breath and associated body odor. While the concentrations appear to be adequate, the formula is missing key active ingredients used in competitor products that are known to offer a total care solution; namely, sustainable support and deodorization. Thus, it is likely that this product will not be as effective as the leading brands on the market which have included such beneficial ingredients. The cheap price along with lack of GMP certification implies that quality was not a priority. Furthermore, the lack of customer support is highly concerning. For these reasons, we do not recommend Scandinavian Formulas Good Breath as a worthy purchase choice.
Bringing you top reviews and product analysis - Consumer Advisors.