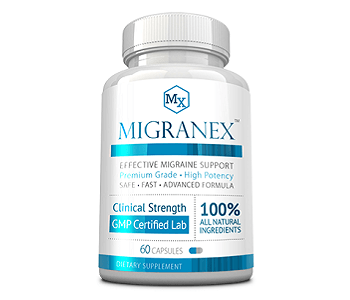 User Ratings (

0

Votes)

0
Today, I am reviewing a migraine treatment product called Migranex. I have done reviews on many migraine relief products, but Migranex is without a doubt one of the best if not the best ones that I have reviewed. The makers of Migranex not only claim that Migranex will reduce the severity of your current migraines, but that it will reduce the risk of future occurrences, all done with natural ingredients. To learn more about Migranex, including the ingredients used and the cost, continue reading below.
Ingredients
The following list is the ingredients that make up Migranex.
Active Ingredients
Magnesium
Gingko Biloba
Black Pepper
Ginger
Bromelain (extracted from pineapples)
White Willow
Inactive Ingredients (capsule makeup and binder)
Calcium Carbonate
Magnesium Stearate
Gelatin
Dosage
Migranex is intended for adult use only. The initial dosage instructions, indicating taking as a dietary supplement, are to take six capsules per day. Two in the morning, two in the afternoon, and two at night. After the initial period (about a week or two), reduce intake to two capsules per day, one in the morning and one at night. The reason for the six capsules a day initially is to get the ingredients into your system and working hard. The product is all-natural, so effects take slightly longer.
Possible Side Effects
While there are no known side effects that have been experienced from taking Migranex, there should be some precautions taken. If you are under 18, pregnant, nursing, have a medical condition known to you, or are currently taking medications for a medical condition, consult a physician before taking Migranex. It is always good to consult with a doctor anyway just in case you might be allergic to any of the ingredients.
Price
All prices mentioned here are reflective of those found on the Migranex website, which offers discounts off the list price. Higher discounts are available for buying multiple bottles. One bottle of Migranex will cost you $49.95. Two bottles cost $69.90, making the per bottle cost $34.95. Three bottles will cost you $31.95 each, a total of $95.85. If you order four bottles, you will pay just $111.80, making the per bottle cost $27.95. Your per bottle cost goes even lower if you order five bottles, being just $24.95 each for a total of $124.75. Ordering six bottles will get you the best value however. Six bottles will cost you $139.80, making the cost per bottle only $23.30.
Guarantee
The makers of Migranex offer you a 100% 60 day money back guarantee. If you are dissatisfied for any reason, just return the unused portion within 60 days to receive a no questions asked full refund of your purchase price. It is doubtful that this will be needed if all the glowing reviews about Migranex are genuine. They have received outstanding customer feedback.
Conclusion Of Our Approved Science Migranex Review
Migranex even goes so far as to show the differences between it and some of their competitors' products, which is where you really see it stand out. Here are some of those differences.
Among competitors Migranex is compared to, it is the only one to contain magnesium, butterbur, and feverfew, all proven to relieve migraine pain.
Migranex is the only natural migraine supplement that contains ginger out of the competitors it was compared to.
Migranex has a 60 day money back guarantee, while the other products do not.
Bringing you top reviews and product analysis - Consumer Advisors.