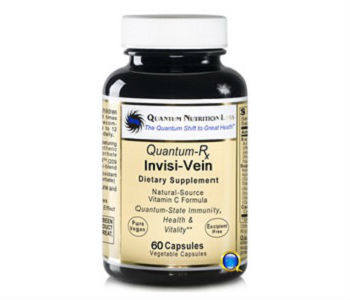 User Ratings (

0

Votes)

0
Spider veins and varicose veins are a real problem which needs real solutions. You can't live with this pain, with the discomfort and with the appearance of your legs. You must start treatment right away with some effective products. One of these products could be Invisi-Vein form Quantum Nutrition Labs. This product can help you get rid of varicose veins and  their annoying symptoms. Check out some interesting facts about Quantum Nutrition Labs Invisi–Vein and decide if it is for you or not.
Ingredients
Some treatment options are based on natural ingredients, others are made of herbal extracts while others contain synthetic compounds. It's up to you to decide which way to go. Here is what you can find in Quantum Nutrition Labs Invisi-Vein:
Vegetable Cellulose
Dio-Pro ( Marine Coral and Bovine Colostrum)
Dio-Max ( Hesperidin and Diosmin)
All these ingredients work in a very effective way to help you with your varicose veins and with all the discomfort. The combination between these compounds really works in your benefit.
Dosage
As all the other similar products available on the market, this one also comes with a recommended dosage which you should be taken seriously. Consistently take this dosage if you want to start feeling better. You should take up to two capsules of Quantum Nutrition Labs Invisi-Vein per day in the first two months of treatment. After these two months you can take one capsule daily.
Side effects
Quantum Nutrition Labs Invisi-Vein has no side effects but consult a physician before purchasing it.
Price
Quantum Nutrition Labs Invisi-Vein comes in bottles which contain 60 capsules. One bottle should be enough for one month. The price is relatively low and we consider that everyone can afford to purchase this product. It costs $26.95.
Guarantee
The manufacturer offers a money back guarantee if you return the product unopened. That is unreasonable. The whole point is to use it, so why wouldn't you open it? One more thing; The manufacturer offers this refund policy but they charge you a 10% restocking fee. Additionally,, the company will deduct the free shipping from the refund. This might make you hesitate before buying Quantum Nutrition Labs Invisi-Vein.
Conclusion Of Our Quantum Nutrition Labs Invisi-Vein Review
This product is quite effective and it seems that many people chose it every day as a solution to their problems with varicose veins. Users say that Quantum Nutrition Labs Invisi-Vein helped them get rid of the discomfort and the pain caused by varicose and spider veins. If you think that this product is the answer to your problems go and purchase it today but if you are not sure that this is what you were looking for search for better solutions. With a defying-logic guarantee and no FDA inspection, this product does have some serious holes the manufacturer needs to patch up.
Bringing you top reviews and product analysis - Consumer Advisors.