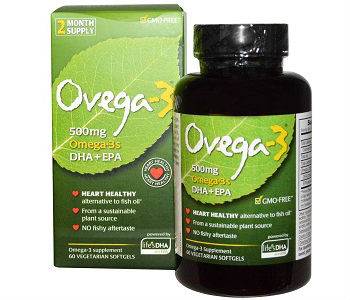 User Ratings (

0

Votes)

0
Ovega-3 DHA EPA provides a healthy supply of vegetarian Omega-3 fatty acids, DHA and EPA which are beneficial nutrients that are scarce in today's Western diet. DHA and EPA are essential for maintaining good health. You're probably not getting the required daily supply of DHA and EPA if you do not eat much fatty fish.
Ovega-3 DHA EPA has a sustainable source of Omega-3s and offers the same heart healthy benefits of fish oil but without the "fishy" aftertaste or "fish burps" associated with many fish oils.
Ingredients
Ovega-3 DHA EPA includes the following ingredients:
Omega-3 Fatty Acids carry a boatload of health benefits that are required for overall health. Omega-3 Fatty Acids are a very beneficial group of polyunsaturated fats that have proven benefits to many areas of health including cardiovascular health, mental health behavioral health.
320 milligrams DHA (docosahexaenoic acid)
Docosahexaenoic acid is a highly polyunsaturated fat that makes up 15% to 20% of the brain. It is important for proper brain and nervous system function. It is also important for brain, eye and heart development in infants, children and adults.
130 milligrams EPA (eicosapentaenoic acid)
Eicosapentaenoic acid is a highly polyunsaturated fat found in the flesh of cold water fish. It plays a role as an anti-inflammatory. It is used in the treatment of heart disease, blood pressure and diabetes. It also improves the health of the brain and retina.
Other ingredients include:
Algal oil
Modified corn starch
Carrageenan
Glycerin
Water
Beta-carotene, caramel (for color)
 Dosage
The recommended dose of Ovega-3 DHA EPA is one softgel daily. There is no mention of whether or not the product should be taken before or after meals.
Price
The standard price for Ovega-3 DHA EPA is $24.99 for a bottle of 30 softgels. (A sixty day supply). Ovega-3 DHA EPA may be purchased through network of resellers or on the internet. The product manufacturer has a website locator tool so the consumer can locate a local reseller.
Guarantee
The product manufacturer does not provide any information about refunds, returns or warranty but does provide a phone number for contact.
Conclusion Of Our Ovega-3 DHA EPA Review
Ovega-3 DHA EPA is pretty expensive (almost $25.00 for a month's supply). Before purchasing this product, a prospective consumer might want to receive additional information about product warranties and returns. The consumer might also want to have their healthcare practitioner review Ovega-3 DHA EPA.
Bringing you top reviews and product analysis - Consumer Advisors.