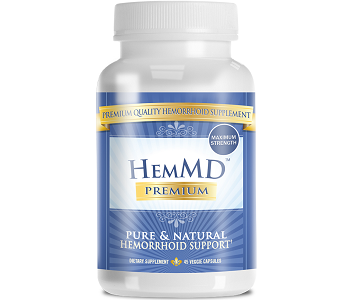 User Ratings (

0

Votes)

0
Hemorrhoids, or piles, are inflamed veins that are found in your anus and lower rectum, that can lead to various levels of discomfort, pain and has been a cause of embarrassment for those suffering from this condition. There are many contributing factors that can lead to the development of piles, including straining and added pressure to the affected area.
Though no one cause has been pinpointed, many search for natural relief from this uncomfortable problem. Our review of HemMD Premium will explore the potency of this natural supplement and its effectiveness when used to provide relief from the pain, swelling, discomfort, and itchiness associated with this condition.
Ingredients
HemMD Premium is made by a manufacturer that has positioned this product as an all natural supplement that consists of pure ingredients known for providing relief from swelling and other aspects of hemorrhoids. We found while conducting our review,  that the compounds found in HemMD Premium were added in optimum volumes. These ingredients included the following; butcher's broom – a plant used to shrink blood vessels; horse chestnut – helps to reduce inflammation; witch hazel – used as an anti-inflammatory topical aid for hemorrhoid relief. Other ingredients consisted of diosmin, ginger root, cayenne, hesperidin, plantain, oat straw, bilberry, rutin, red root and mullein leaf. We could also establish that this product did not contain any additives such as filler and binders.
Dosage
The recommended dosage for this supplement is to take two capsules, three times daily. Two in the morning, afternoon and evening.
Price
The manufacturer offers various packages for purchase online, ranging in quantity and prices.
Sampler's Package (One bottle supply)  – $48 (save $20)
Moderate Package (Three bottle supply)  – $91 (save $113)
Moderate Package (Four bottle supply) – $112 (save $160)
Best Selling Package (Six bottle supply) – $138 (save $270)
Guarantee & Feedback
While many natural supplement manufacturers do not provide their customers with a comprehensive money back guarantee policy, you are able to buy HemMD, without the fear of losing money. The manufacturer's confidence in their product shows in the 90 days they give customers to return this supplement. In addition to its return policy, this product enjoyed successful claims from previous users – who felt that HemMD gave them relief from their hemorrhoid symptoms.
Our Conclusive Review About Premium Certified HemMD Premium
With a market that is saturated with companies making false claims about what their products contain, it was refreshing to be able to find transparent information about this supplement. We were able to easily determine that this product did not contain any added fillers or binders and that it was vegan-friendly. And that the ingredients used during the manufacturing phase were of the highest quality. Customers also have the option of choosing which purchasing package suits their needs and budgets, which makes this supplement more accessible to the public. In conclusion to our HemMD Premium review, we can say with confidence that this is a premium natural product that seems to live up to their promise.
Bringing you top reviews and product analysis - Consumer Advisors.