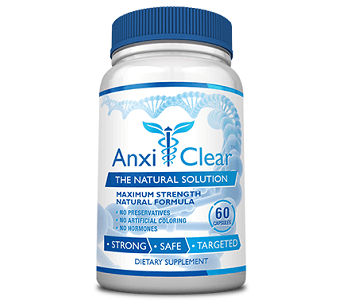 User Ratings (

0

Votes)

0
AnxiClear offers a proprietary all natural and safe blend solution to your anxiety problems with little risk of side effects. Anxi Clear is a supplement designed to help alleviate anxiety, improve mood and can help treat sleeping disorders as well. If you want to learn more about this product continue reading our AnxiClear review below.
Ingredients
AnxiClear is available in two variations: Day Time Formula and a Night Time Formula. Each has a specific set of ingredients designed for their own speciality.
The Day Time Formula includes the following ingredients:
Valerian Extract – This ingredient has long been used to help those with sleeping disorders such as insomnia.
Passionflower – The chemicals in this flower contain a calming and sleep inducing agent that helps in treating sleep disorders and anxiety attacks.
Chamomile Flower  – Extracts derived from this flower contains chemicals that are known to have anti-inflammatory properties and can be used to lessen the symptoms of certain skin diseases.
5-HTP – This chemical helps increase the body's production of serotonin which can help in lowering the symptoms of sleep disorders and is also used to help those suffering from anxiety and depression.
Standardized Magnolia Extract – This compound is again used for treating anxiety and depression as well as those having weight loss problems and migraines.
L-theanine 99% Pure – This chemical is derived from tea leaves and is believed to have calming and relaxing effects.
Eleuthero Root Extract – Also known as Siberian ginseng, this plant is known to contain "adaptogens" which helps the body cope with stress better.
Common Oat  – Oats has dozens of benefits including lowering the risk of asthma, managing appetite and improving the body's immune system.
Brahmi – This plant is often used as a brain food thanks to its memory enhancing nutrients.
The Night Time Formula contains similar ingredients as the Day Time Formula save for a few changes.
Jujube Seed Extract – This extract has been a staple in supplements used to help alleviate stress, insomnia and it is an effective digestive aid.
Reishi Mushroom – This mushroom helps boost the immune system.
Melatonin – This is an antioxidant and anti aging naturally occurring compound.
Lemon Balm Extract – Lemon balm has numerous health benefits including treating digestive problems as well as helping calm and relax the nerves and mind.
Hops Flower – This is used commonly to help treat anxiety and sleep disorders.
Dosage
The Day Time formula should be taken two times per day, once in the morning and another in the afternoon. The Night Time formula, on the other hand, should only be taken once at night at least an hour or 30 minutes before bed time.
Possible Side Effects
Each ingredient used in both the Day and Nighttime formulas has been tested and proven to be absolutely safe for use. However, it is still best to first consult with a doctor before taking such medications or supplements.
Price
One bottle of the Day and Nighttime formula AnxiClear contains 60 capsules and is priced at $49.95 each. This product is available with monthly supply package options with discounted prices. For example, they have a 6 bottle package available that lower the price for each bottle to $23.30.
Guarantee
AnxiClear is offered with a 60-day money back guarantee. You can return the product and get a full refund, sans delivery charge, if it did not meet your desired results or any other issues that you might have with the product.
Conclusion Of Our Consumer Health AnxiClear Review
Overall, AnxiClear is definitely a great choice for people having anxiety and sleeping problems. All the ingredients used were researched properly to offer you the best results with minimum to no risk of side effects. The money back guarantee is also a great safety net for new customers.
Bringing you top reviews and product analysis - Consumer Advisors.