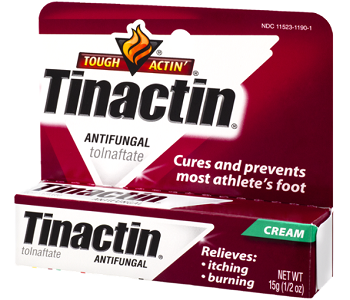 User Ratings (

0

Votes)

0
Athlete's Foot is a fungal infection that affects the skin on the feet which can also spread to toenails and hands. Common risk factors include visiting public places like locker rooms or shower barefoot, wearing close-toe shoes, sweaty feet and keeping your feet wet for an extended period of time. Although athlete's foot is not necessarily a serious ailment, it can be hard to treat. This Bayer Tinactin review is going to look at the facts and details of the product to learn more about how it works and to see if it's worth trying for effective relief form athlete's foot. Bayer claims that their product will relieve uncomfortable burning and itching caused by athlete's foot and can also treat ringworm.
Ingredients
The only active ingredient in Tinactin Cream is  Tolnaflate. It has been clinically proven to be effective in the treatment of athlete's foot and ringworm and has been shown to be effective in the relief of itching, burning and cracking. Inactive ingredients include ceteth-20, cetostearyl alcohol, chlorocresol, mineral oil, propylene glycol, purified water, sodium phosphate monobasic, white petrolatum.
Dosage
You are instructed to wash the affected area and thoroughly dry it. Then apply a thin layer of cream over the affected area twice daily, once in the morning and once at night. If you are using this cream to specifically treat athlete's foot, make sure to pay special attention to the areas between the toes. Wear well fitted and well ventilated shoes. Make sure to change your shoes and socks at least once a day. Use the cream daily for four weeks. If you find that the condition is persisting for longer than this time, talk to your doctor. To prevent athlete's foot, apply once or twice daily. This cream is not meant for use on children under the age of two, unless instructed by your doctor.
Stop use and talk to your doctor if irritation occurs or if there is no improvement within four weeks.
Possible Side Effects
Although the manufacturer does not list any possible side effects, we found common side effects associated with Tolnaflate to include itching, dryness or peeling of the treated skin.
Talk to your doctor before using this cream if you are pregnant or nursing.
Price
You can purchase Tinactin Cream exclusively from third-party retailers. We one one one-ounce tube available online for $59.75. We were unable to find any discounted bulk purchasing packages offered but that can vary according to the manufacturer you purchase from.
Guarantee & Feedback
It is discouraging to see that the manufacturer does not offer any manufacturer's guarantee. It speaks to the manufacturer's confidence in their product's ability.
Considering that Bayer products are generally popular, we were surprised to see that we were unable to find any consumer feedback available anywhere online.
Our Conclusive Review About Bayer Tinactin
Tinactin appears to be a promising tool that can be used to treat athlete's foot. It contains a main ingredient that has been clinically proven to reduce symptoms of athlete's foot and it is made by Bayer which is a well-known and trusted manufacturer's name. However, it is discouraging to see that they do not offer a money back guarantee. Considering the price is so expensive per tube, it is risky to purchase Tinactin without having the ability to return the product should you find that it does not work for you. Furthermore, without consumer feedback, there is no way to gauge whether or not this cream has had effective results for its users. Taking these factors into consideration, choosing Tinactin is risky. You are better off choosing a treatment that is backed by a strong manufacturer's guarantee, one that is affordably priced and one that has consumer feedback.
Bringing you top reviews and product analysis - Consumer Advisors.