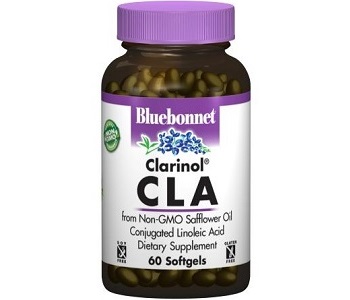 User Ratings (

0

Votes)

0
This review evaluates the effectiveness of a supplement called Clarinol CLA, manufactured and distributed by a manufacturer named Bluebonnet Nutrition. Not all CLA supplements are as effective as the leading manufacturers, and this review is to determine if Bluebonnet Clarinol CLA, is one of those leading manufacturers.
Ingredients
The only active ingredient in the supplement is conjugated linoleic acid. Conjugated linoleic acid is a naturally occurring fatty acid that has been isolated from the tissues of some plants and animals. As far as research has determined, humans are unable to produce conjugated linoleic acid on their own. However, it has a number of biological effects on the human body. One of the major effects it has is helping people to lose weight by reducing the uptake of fat by adipose cells, which are the cells responsible for storing fat in the body. It also causes a reduction in fat cells by causing them to shrink and eventually die. Another major effect it has is reducing the release of some of the hormones which are responsible for producing the feeling of hunger. People who take conjugated linoleic acid daily will therefore see a reduction in their fat tissues and will be discouraged from eating more, which helps them to lose weight.
Dosage
The manufacturer recommends taking one capsule of Clarinol CLA every day. Each capsule of Bluebonnet Clarinol CLA contains 780 mg of conjugated linoleic acid. This is about half of the dose that was determined effective by research so it is difficult to say that the supplement will be as effective as what was determined by science.
Possible Side Effects
The side effects of taking conjugated linoleic acid include an upset stomach and diarrhea. These side effects are only experienced by a small proportion of people and usually pass within the first few days of using the supplement. Pregnant women and breastfeeding mothers should consult a health care practitioner before using this supplement.
Price
60 capsules of Bluebonnet Clarinol CLA can be bought through third-party online retailers for around $18, while 90 capsules are also available online through third party retailers for $23. We could not find any discounts for customers who buy multiple packages at once.
Guarantee & Feedback
We could not find any guarantee or returns policy provided by the manufacturer for this product. This suggests to us that the manufacturer is not entirely confident that their product works, because they are shifting the risk to the customer, who loses money if the product is ineffective, and not the manufacturer.
Our Conclusive Review About Bluebonnet Clarinol CLA
The scientific research about conjugated linoleic acid is quite clear about how it can help people to lose weight. Bluebonnet Clarinol CLA is offered at an affordable price for customers. The major problem with it is that it does not contain a high enough dosage of conjugated linoleic acid, so it is quite possibly ineffective. The other major problem with that is that the manufacturer doesn't offer a guarantee, so customers are likely to feel frustrated and that they've wasted their money if they find that this supplement doesn't work for them.
Bringing you top reviews and product analysis - Consumer Advisors.