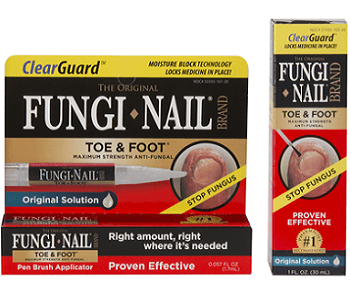 User Ratings (

0

Votes)

0
Our Clear Guard Fungi-Nail Toe and Foot Anti-Fungal Solution review aims to determine what this product can do for those with nail fungus conditions and whether it is a product worth considering. According to Clear Guard, this anti-fungal solution makes use of a specially formulated anti-fungal delivery system that locks in the medication in the affected area. The manufacturer further claims that this anti-fungal remedy can be used both on fingers and toes without any side effects. If you want to know more, read on.
Ingredients
The product comes in two formats, one applied with a brush applicator and the other applied with "pen-brush" applicator. Both formats require you to first clean the affected area well with soap and water and dry thoroughly. And both require you to cut your nail straight across so they are only slightly round at the tips.
The third step depends on which format you have. Both require you to apply the solution twice daily under the nail and around the cuticles. With the brush applicator this is accomplished by simply brushing the solution on. For the "pen-brush" applicator you twist the base to saturate the brush and then apply, but be sure that solution does come out.
Dosage
The manufacturer's suggested dosage is to apply a small amount of the liquid twice a day, morning and night. If you are going to use this product for athlete's foot or ringworm, you need to apply daily for a month.
Possible Side Effects
From what we have gathered from the product website as well as customer reviews, there are no known side effects associated with this product.
Price
If you're going to purchase Clear Guard Fungi-Nail Toe and Foot Anti-Fungal Solution, the price tag for it on Amazon at the time of our review was $7.59 for the brush applicator version. By comparison, for some reason it was priced at $26.51 on Walmart.com.
Guarantee & Feedback
In terms of guarantee, Clear Guard seems confident that its remedy is the real deal which is why, if you are not 100% satisfied with the results, you can return proof of purchase (a copy of the receipt with UPC barcode from the package) or the peeled off the wrapper from the bottle. If you don't have the above, you can get a refund based on the current price at Wal-Mart. There is no indication of a time limit for the guarantee.
Amazon customer feedback is not particularly impressive with 59% positive and a high 30% negative rating from over 350 reviews at the time of writing.
Our Conclusive Review About Clear Guard Fungi-Nail Toe and Foot Anti-Fungal Solution
After carefully studying the details that we have gathered for our Clear Guard Fungi-Nail Toe and Foot Anti-Fungal Solution Review, we believe that this remedy is the real deal — for some people. The price is certainly reasonable as is the money-back guarantee (although you should check with the company if there is a time-limit on the guarantee). However, real-user feedback makes it seem a hit-and-miss prospect.
Bringing you top reviews and product analysis - Consumer Advisors.