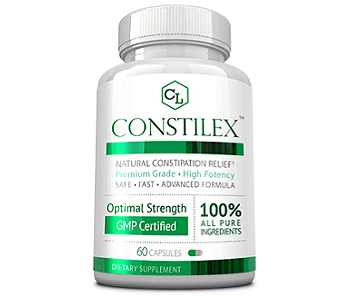 User Ratings (

0

Votes)

0
Amidst the many products available nowadays online and offline, we are going to review Constilex, a natural constipation supplement that claims to be a fast, safe way of relieving constipation. Constilex is one of the best constipation supplements that we will review now because it claims to be a top-quality supplement manufactured with the highest standards in the USA. Constilex claims to bring about a lot of health benefits such as decreasing the severity of constipation by the improvement of intestinal flora, reducing the duration of constipation and its frequency by improving the consistency of stools and enhancing the action of the intestinal muscles. It also claims to correct vitamin and mineral deficiencies that cause constipation and improve digestion and bowel function so that constipation will not recur in the future. To know more about the effects of Constilex on bowel function and on general health, read on.
Ingredients
Constilex is a blend of unique ingredients that fight constipation.
Cascara Sagrada— contains antioxidants known as anthraquinones, which naturally stimulate intestinal movement or peristalsis
Acidophilus– a class of good bacteria which promotes good intestinal health and prevents the occurrence of constipation
Buckthorn Root– contains the substance emodin, which enhances the activity of the smooth muscles of the colon
Rhubarb– contains the minerals potassium and magnesium which creates good stool consistency
Cape Aloe– the juice contains a natural laxative and relieves inflammation in the bowels to soothe and relieve pain and bloating
Bentonite Clay— is a type of phyllosilicate clay that is highly absorbent and that cleanses and lubricates the colon to get rid of toxins
Cayenne Pepper— contains capsaicin that enhances the production of enzymes and improves blood circulation in the intestines
Senna– it is a form of laxative herb that enhances the movement of the intestines and promotes fluid secretion in the bowels to soften stools
Prune Juice— it serves as a natural source of minerals such as potassium and magnesium as well as phenolic compunds that stimulate bowel movement
Flax Seed Oil– it is a concentrated source of omega-3 fatty acids and serves to reduce inflammation and irritation in the stomach
Natural Fiber Blend– it is made up of soluble and insoluble fiber from herbs which serves to maintain stool consistency and soothes the intestines
Soothing Complex– it is a rich powerful blend of ginger, licorice and fennel to relieve constipation and other discomforts.
Dosage
Constilex should be taken as needed at two to three capsules a day with an 8 oz. glass of water. You should not take it for three days in a row.
Price
Constilex is currently being sold at a limited time BUY 3 GET 3 FREE special promo. The Best Value Package (BUY 3 BOTTLES + GET 3 FREE) consists of 6 bottles at the price of $23.30 per bottle ($139.80 Total). The Intermediate Package (BUY 2 BOTTLES + GET 2 FREE) consists of 4 bottles at the price of $27.95 per bottle ($111.80 Total). The Starter Package (BUY 2 BOTTLES) consists of two bottles and is priced at $34.95 per bottle ($69.90 Total). A single bottle purchase costs $49.95.
Guarantee
Constilex comes with a 60-day, risk-free guarantee. If for any reason you are dissatisfied with the product, you can return all the bottles you ordered (both used and unused) within 60 days, for a full refund (excluding shipping). They have very good customer reviews about guarantee.
Conclusion Of Our Approved Science Constilex Review
To sum it all up, Constilex  is a very good product that is superior to that of other brands. It is a unique blend of 19 soothing ingredients and contains preventative probiotics. It has a dual-action formula that relieves and prevents constipation. All other supplements on constipation do not have these benefits. It also comes with a 100% money back, 60-day guarantee. It contains no additives, no preservatives and no artificial ingredients. Truly, Constilex is a one-of-a-kind supplement for good bowel function!
Bringing you top reviews and product analysis - Consumer Advisors.