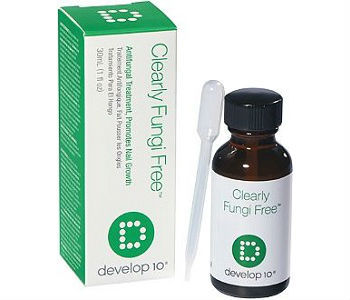 User Ratings (

0

Votes)

0
When it comes to fungal infections, we all look for the one miracle solution to ease our discomfort and pain that is caused by these bacteria. With so many different treatments available on the market, we are not sure if these products work with great results.
Develop 10 Clearly Fungi Free as many other companies promise that the treatment has the miracle solution Tolnaftate in liquid form to cure little critters that cause discomfort in your finger and toe nails.
They say that the fungus treatment will leave no oily residues and is an antibacterial, antiseptic plus anesthetic formula that will cure infections and relieve you from irritations' caused by these fungi.
For some users who have used the product they had noticed immediate results where other clients had not been so satisfied with the product.
Ingredients
Clearly Fungi Free is a liquid that is available in a small brown bottle that holds 30 ml of the treatment. Plus, it includes a dropper to use on the infected areas.
Constituent:
The active ingredient is Tolnaftate; however, we could not see how much of the ingredient is used.
Isopar
Glycol Ether
IPA
Benzocaine
PCMX
For one, we noted that the treatment may help to cure and relieve the infection, it does not contain enough ingredients to help your skin to feel moisturized and bring it back to a healthy state, as many fungal bacteria causes damage in the surrounded area of the nails.
Dosage
It is advised that you should use the dropper to apply the liquid to the infected areas; however, we do not know how many drops are required. The treatment should be applied twice a day.
*Warnings confirmed by the manufacturer are advised that the treatment is flammable and should not be used on broken skin or aggravated areas.
Price
Clearly Fungi Free is sold online by various retailers and starts at $8 up to $12 which is fairly cheap when compared to various other treatments.
Guarantee
No guarantee could be found for the products except for the seller's money back guarantee.
Conclusion Of Our Develop 10 Clearly Fungi Free Review
The Clearly Fungi Free product has some excellent feedback when it comes to users who have used the treatment. The setback of providing users with an availability guarantee can cause future clients think twice when buying the product.
The other concern is the lack of ingredients to heal the surrounded infected areas of the skin, plus the formula is highly flammable and can cause irritation to infected skin.
Bringing you top reviews and product analysis - Consumer Advisors.