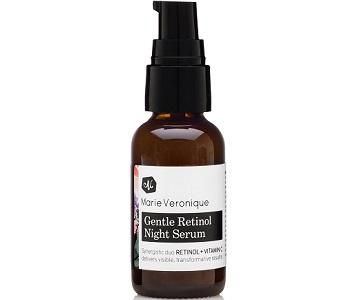 User Ratings (

0

Votes)

0
Today we review an evening serum that rests on the synergy between Vitamin A, Vitamin C and Vitamin E. The serum is named Gentle Retinol Night Serum and the manufacturer, Marie Veronique, says it delivers visible and transformative results. The manufacturer says it does not simply use any form of these ingredients either – it uses anhydrous Vitamin C and microencapsulated retinol with stabilizing Vitamin E to deliver 'near-miraculous' results. Vitamin E is indeed a clinically recognized necessity in a good night serum but there are also several nutrients that need to be included, based on high profile, consistently published research. We will examine to what extent this formula matches published findings on night serum best practice.
Ingredients
Coenzyme Q10
Vitamin C
Ceramide Complex
Photoaging Repair Complex
Vitamin A
Sodium Salicylate
Vitamin A is a known anti-inflammatory. It dries up the oils in your skin, the sebum, and unclogs pores. Although it is a sensible ingredient to include, it can potentially irritate your skin, depending on the dosage included. Sodium Salicylate also contains retinoids or Vitamin A.Vitamin C is an anti-aging warrior that is best used in conjunction with vitamin E so as to increase collagen levels. We would have liked to see more Vitamin E in the product – it is included but not featured, presumably, as high doses are not included. Ceramide complex forms a key part of the top layer of skin, and it is used here to lock moisture in. Photoaging Repair Complex contains a proprietary resveratrol complex which is very important in the fight against aging due to high antioxidant levels.
A number of plant and flower oils have also been used. Unfortunately, the clinically proven ones including Alpenrose, electric daisy flower and jojoba have not been included, compromising efficacy.
How To Use
Use in the evening only. Shake well. Smooth 1-2 pumps onto your face, neck, and chest. Use sunscreen daily. Consult a physician if irritation occurs. Do not use retinol if you are trying to conceive, pregnant or nursing.
Price
The liquid serum has a top that resembles a dropper. A one-ounce bottle will cost you $110 on the product website. There are no discounts or bundled deals.
Guarantee & Feedback
If you don't see results, you can get your money back, provided you have bought the serum directly from the manufacturer online. The return shipping is for your own cost. It is good that a firm guarantee policy is in place, although it does not go as far as the 60 to 365-day policies offered by leading cosmetic houses.
Our Conclusive Review About Our Marie Veronique Gentle Retinol Night Serum Review
The product is high on antioxidant qualities and the proprietary resveratrol inclusion should be able to combat the signs of aging powerfully. We think that the product contains adequate moisture, although it could have gone further to stimulate hyaluronic acid. Our main concern is with what appears to be a high concentration of Vitamin A in various forms, considering that the serum is supposed to be 'gentle'. At these volumes, in particular, Vitamin A can cause irritation. It is therefore correct that the manufacturer advises you to use sunscreen during the day, as it also increases your levels of photosensitivity. It can also dry out other moisture barriers, such as your lips. If you are acne-prone for example and use a dermatological-strength Vitamin A product, you are expressly told about the severe and long-term side effects. To compensate, more aggressive forms of moisture should have been added to this product, as well as the missing clinically proven ingredients of jojoba, electric daisy flower and alpenrose among others.
While it is great to see one proprietary blend has been included, leading cosmetic houses have at least five patented ingredients. Clinical studies show that this is best. Patents ensure you get the best forms of ingredients to deliver maximum, superior impact. We were surprised, for example, not to see a patented form of Vitamin C included as it is more beneficial in a night serum than Vitamin A; and also because the manufacturer places such a huge emphasis on using the best forms of these Vitamins. Without a patented format, it is likely that the form included here is unstable, does not penetrate as far as it should and therefore lacks efficacy.
Bringing you top reviews and product analysis - Consumer Advisors.