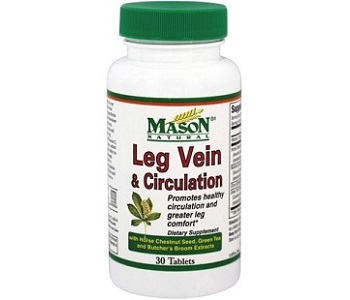 User Ratings (

0

Votes)

0
Varicose veins are categorized by enlarged and swollen veins that become visible in the legs. This condition is primarily caused by poor blood circulation. Mason Natural Leg Vein & Circulation is a supplement designed to combat symptoms associated with varicose veins. The manufacturer states that this product will promote healthy blood circulation and greater leg comfort. The information in this review will assess the accuracy of this claim to help you make a wiser consumer purchase.
Ingredients
Vitamin C
Horse Chestnut Extract
Citrus Bioflavonoid Complex
Green Tea Extract
Horse Chestnut Extract is an ingredient found in many varicose vein supplements because of its ability to improve blood circulation and reduce swelling. It may also provide relief from itching, pain, and water retention. Butchers Broom is another ingredient designed to increase the body's ability to pump blood. This has a direct impact on varicose veins as it combats impaired circulation. The addition of Vitamin C is positive to note as this ingredient boosts collagen production for the reduced appearance of wrinkles and fine lines. This plays a role in combating the enlarged appearance of veins. Green Tea Extract is known to maintain a healthy cardiovascular system for enhanced benefit. These ingredients, although beneficial, are not the only substances commonly used to alleviate symptoms of unhealthy veins. Many competing products contain Diosmin and Hesperidin for added benefit. The lack of these ingredients in this product is a concern. That said, the manufacturing of this product follows cGMP guidelines to ensure that it is of a quality standard.
Dosage
Adults should consume two (2) tablets daily with meals. This supplies a sufficient dosage of the main ingredients, however, the lack of Diosmin and Hesperidin is a concern. The dosage, although beneficial, cannot be considered a total-care remedy for varicose veins.
Possible Side Effects
The manufacturer advises that individuals who are pregnant, nursing, or taking other medication should consult a health practitioner prior to taking this supplement. They also suggest that you discontinue use if any negative reactions occur.
Price
The product cannot be purchased through the manufacturer's website. It is sold online through third-party sites. The product retails on Amazon for $25.76. This is a relatively affordable price, however, there are no bulk-buy deals to support long-term use. This may become a costly endeavor and there are alternative products with significant discounts that may prove more ideal.
Guarantee & Feedback
The manufacturer does not offer a guarantee for the purchase of this product. This means that if the product does not live up to manufacturer claims, you will not be able to apply for a refund. The lack of a return policy suggests that the manufacturer is not entirely confident in the product. This does not bode well for product efficacy and is a major concern. Furthermore, there are insufficient customer reviews to support the product's effectiveness. This does not instill confidence in purchases of this product and it may be wise to search for a more proven formula.
Our Conclusive Review About Mason Natural Leg Vein & Circulation
Mason Natural Leg Vein & Circulation contains a correct dosage of ingredients known to provide relief from varicose veins. The affordable price makes this a compelling option on the market. That considered, there are numerous negative factors about this product. It is not supported by a manufacturer guarantee and the lack of customer reviews makes it difficult to assure efficacy. The product omits certain ingredients that play an important role in superior products on the market. For these reasons, we strongly advise that you seek a more proven supplement for optimal benefit.
Bringing you top reviews and product analysis - Consumer Advisors.