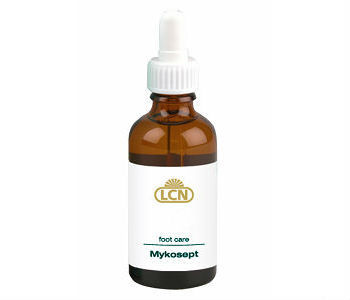 User Ratings (

0

Votes)

0
LCN Mykosept Anti-Fungal Treatment their product is a preventative fungal and anti-bacterial care product used to effectively treat nail infections. This treatment treats mycosis and all types of bacterial infections such as athlete's foot. It contains anti-inflammatory and calming ingredients.
While searching on the LCN Canada website, we found that according to them proper relevant and comprehensive education is the cornerstone of their philosophy since 1989. Providing the customers with light cured products designed for them when it comes to their nails.
They continue researching and developing improved products that contain no acetone, solvents, or acids. However, when taking a closer look at their Mykosept Anti-Fungal dropper and spray bottles, there is little information available regarding the description, use, or even labeled ingredients when buying the product.
With all this information in mind, we decided to take a closer look at this product.
Ingredients
As previously, mention there is not much information available regarding the product except that you can buy the treatment in two different types of bottles, from a dropper type bottle that holds 50 ml of the treatment fluid plus a spray bottle that holds 50 ml of the fluid.
The only noted information regarding the ingredients is that it contains Bisabolol and Panthenol.
Dosage
LCN Mykosept Anti-Fungal Treatment does not really advise you as to how it should be applied or how many times a day accepts that it should be applied onto the nails and between the toes.
With some research we found that some users advised that it must be used on the infected nails 3 times a day. Some users will see results in a month where for others it may take up to three months.
Price
The treatment can be bought from different retailers online or directly from the LCN website. Prices vary, but we found that Amazon is selling the product for $15.90 and a bottle should last you a month.
Guarantee
*No guarantees are set out by the manufacturer of the product and it would be advised to take this up with personally if your product has been damaged or does not show any results when used.
For some users the treatment has shown results in assisting them with fungal problems, with a rating of 2.8/5 stars. There had also been customers that are not pleased with the fact in receiving no instruction leaflets with the product regarding ingredients and side effects that are important when buying any health product.
Conclusion Of Our Mykosept LCN Canada Review
LCN Mykosept Anti-Fungal Treatment may work for some users, but the lack of information makes this very difficult for future clients to be able to buy the product, as this brings over concern when you are in need of buying a fungal treatment.
Bringing you top reviews and product analysis - Consumer Advisors.