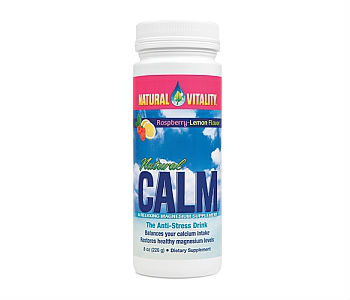 User Ratings (

0

Votes)

0
It is quite easy to develop anxiety in today's stressful world. We rush from place to place and are always chasing deadlines. These consistently high levels of stress can have an effect on the brain chemistry and cause victims to worry about situations that wouldn't normally even be considered stressful. This is called anxiety. There are several products on the market for treating anxiety but in this review we look at one called Natural Vitality Natural Calm. We assess its effectiveness and its cost to determine its overall value.
Ingredients
This supplement contains only one active ingredient which is magnesium. Magnesium inhibits a molecule known as the N-methyl-D-aspartate (NMDA) glutamate receptor. In anxiety, this receptor is overactive. It acts like a gateway for positively charged particles in certain nerve cells. If it is overactive, the nerve cells receive too much stimulus from the positive particles and become excitotoxic. This means that their function is uncontrolled and they send signals in a chaotic fashion. This is one of the underlying causes of anxiety.
This product is lacking in a variety of ingredients such as neurotransmitters and plant extracts which could have a supporting effect on the magnesium. This would lead to a much better reduction in anxiety.
Dosage
Two teaspoons of the Natural Vitality Natural Calm powder should be added to 2 to 3 oz of water, hot or cold. When the fizzing has settled, the supplement can be drunk. Each daily dose delivers between 325 to 350 mg of magnesium.
Possible Side Effects
Side effects of the supplement include low blood pressure and diarrhea. It is safe for children provided that the proper recommended daily allowance values are adhered to. It is also safe for pregnant and breastfeeding women but it is still recommended to consult a doctor before using the supplement. Magnesium can interact with a variety of medications, so if users are taking chronic medication they should seek approval from a doctor before using this supplement.
Price
The price varies depending on which flavour and what amount of supplement is desired for purchase. The 8 oz. packages cost between $22 and $24. The 16 oz. packs cost $41. These prices do not include shipping and taxes.
Guarantee & Feedback
The manufacturer offers a refund  or exchange for products returned within 30 days of receipt. They do not state whether this is valid for open products so it is unclear if it is a satisfaction guarantee.
The manufacturer does not have any platform for customers to express their feedback reviews.
Our Conclusive Review About Natural Vitality Natural Calm
This supplement is offered at quite a low price. This is likely because it is lacking a few key ingredients and only contains one. The directions for use are quite simple and the supplement appears to be pleasant to take.
Natural Vitality Natural Calm can cause a few significant side effects though. It is unclear whether customers enjoyed the use of this product or not because the manufacturer does not posses a space for customer feedback reviews.
Bringing you top reviews and product analysis - Consumer Advisors.