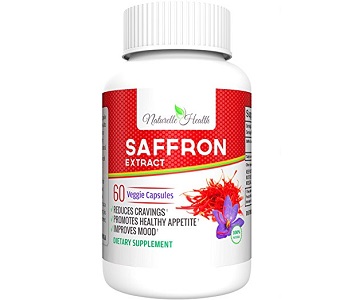 User Ratings (

0

Votes)

0
Today we review Naturelle Health Saffron Extract.  This all-natural supplement acts as an appetite suppressant to help decrease sugar cravings.  With a smaller appetite, you will be able to reach your weight goals faster and eventually maintain a healthy weight.
Ingredients
Each capsule contains only 88.5 milligrams of saffron extract.  While not the lowest, this amount of saffron is quite lower than other products we have seen.  With a lower amount of saffron, this concerns us as to the supplement's ability to help people lose weight.  The capsule itself is made out of only cellulose and rice flour, making this supplement not only vegetarian friendly, but also acceptable for those following a vegan lifestyle.
Dosage
The manufacturer suggests taking one capsule two times per day.  It is also recommended to take the supplement 20-30 minutes before a meal to allow time for its effects to start working before you eat.  Even with taking two capsules daily, you will still be taking less than many other saffron supplements on the market.
Possible Side Effects
While no side effects were listed on the bottle, some customers did report in their reviews that they experienced side effects.  One reviewer commented that the supplement made her feel nauseous and sick to her stomach.
Price
Through our extensive research, we were unable to find a reliable price for this supplement.  The manufacturer does not have a website for us to look at and the products is currently out of stock or unavailable on other third party sites, like Amazon.
Guarantee & Feedback
Without a manufacturer's website and without a confident third party seller with the product available, we were unable to find anything about a guarantee for this product.  There is an address listed on the bottle of the supplement, but no phone number.  This Without a way to contact the manufacturer, it would be very difficult to be able to ask about a guarantee, let alone find out the process for a refund.
While there are not many customer reviews available, almost 20% of the reviews on Amazon were only one star.  All of these reviews stated they did not feel any difference when taking this supplement.
Our Conclusive Report About Naturelle Health Saffron Extract
There are a few things we liked about Naturelle Health Saffron Extract.  The capsules are made of only vegan ingredients, making this supplement truly accessible to anyone wanting to take it.  Also, the only main ingredient is saffron extract, making this a pure supplement.
Unfortunately, there are many things that raised concerns for us about this product.  First of all, the amount of saffron in each capsule is much less than other saffron supplements we have seen on the market.  Even with the daily dose of two capsules, you will still be taking less than the other supplements we have seen.  Also, there was a major lack of information available about this product.  The manufacturer does not have its own website, and we were unable to find this product available through any third party seller, including Amazon.  Because of this lack of information, we have no price to report on this supplement and no money-back guarantee should you be able to purchase the item.  Lastly, of the few customer reviews we were able to find, many were negative, and some even mentioned unwanted side effects that were not part of the manufacturer's warning.  For these reasons, we cannot recommend Naturelle Health Saffron Extract.
Bringing you top reviews and product analysis - Consumer Advisors.