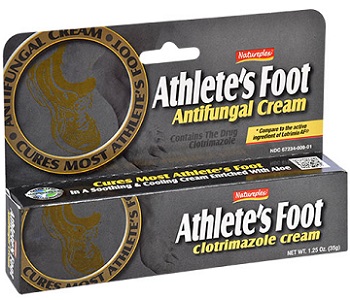 User Ratings (

0

Votes)

0
Read our review below about a product called Natureplex Athlete's Foot
Antifungal Cream, a product that is formulated to provide relief from athlete's
foot. It can also provide relief from other infections like ringworm and jock itch.
According to the manufacturer this cream offers quick relief from symptoms that
are related to these types of fungal infections, like itching, scaling, burning,
cracking and discomfort.
Ingredients
The active ingredient that is contained in this product is Clotrimazole. It has
antifungal substances that relieve itchiness, scaling, burning and other symptoms
that develop through the infection.
Other ingredients are: Water, Mineral Oil, Cetyl Alcohol, dmdm Hydantoin,
Trisodium edta, Isopropyl Alcohol, Triethanolamine, Aloe Barbadensis (Aloe)
Leaf Juice, Carbomer, Glyceryl Stearate, Methylparaben, Polysorbate 20,
Propylparaben and Stearic Acid.
Dosage
It is recommended that you wash the affected area and dry it completely before
applying the cream. Apply a thin layer of this cream to the affected area twice a
day. Remember to apply it in between the toes as well for athlete's foot.
To manage ringworm and athlete's foot use everyday for four weeks. To manage
jock itch, use it for a period of two weeks. Speak to your doctor if there are no
changes after the recommended time of usage has lapsed.
Possible Side Effects
Some of the common symptoms that Clotrimazole as an ingredient can cause are
stinging, swelling, itching, burning, peeling, blistering, nausea, vomiting, stomach
ache, et cetera. Consult your doctor if you experience any of these.
Price
This product can be purchased from different retailers online. One of them
sells three packets for a price that ranges between $7.24 and $8.49. This means
that one tube costs around $2.40 from this retailer. It is available for $1.48 and $2.99 per tube from other retailers. So far, this is the cheapest product that we
have reviewed for athlete's foot.
Guarantee & Feedback
We searched the manufacturer's website and those of third-party retailers, but we did
not find any information about the manufacturer's guarantee. This worries us, as
the lack of guarantee puts the customer at risk of loss. There are positive and
negative reviews on this product, which might help reading before you buy it.
Our Conclusive Review of Natureplex Athlete's
Foot Antifungal Cream
Natureplex Athlete's Foot Antifungal Cream might be helpful providing relief
from infections like athlete's foot and other fungal infections. Its price is very
low, which makes it affordable for people who do not have much. We realized
that the manufacturer does not seem to offer money-back guarantee. This is a
concern because guarantee is a form of assurance about your satisfaction. The
lack of guarantee shows the manufacturer's lack of confidence on the
effectiveness of the product.
We read a number of reviews to find out more about the cream. There are
positive and negative reviews. Some consumers indicated that the product did
not work for them, some said that the tube has a lot of air in it, almost more than
the cream inside if not more. This is not a good thing because customers buy it
thinking that there it is full, while it is not.
Furthermore, the price is too cheap when comparing it to other similar products
on the market, which is a problem because low price is often associated with low
quality. We do not recommend this product for athlete's foot.
Bringing you top reviews and product analysis - Consumer Advisors.