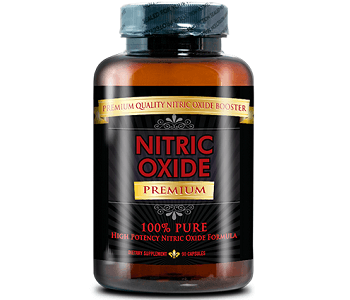 User Ratings (

0

Votes)

0
Nitric Oxide supplements may help people who workout build muscles faster and speed up recovery time post workout. However, not all nitric oxide supplements contain the correct formulation to produce these results. That's why we will review Nitric Oxide Premium whose supplements include nitric oxide boosting ingredients such as L-Arginine (AAKG) and L-Citrulline. They have also blended some other natural ingredients known for boosting nitric oxide such as Pine Bark, Beetroot extracts, Quercetin, Fenugreek and Tribulus Terrestris. This company will also offer you a 90-day money back guarantee, to ensure their customers are fully satisfied with the results.
Ingredients
Nitric Oxide Premium contains completely natural nitric oxide boosting ingredients L-Arginine and L-Citrulline. Additionally, Nitric Oxide Premium have created a blend of supportive nitric oxide producing ingredients such as Pine Bark and Beetroot extracts, Quercetin, Fenugreek and Tribulus Terrestris. Nitric Oxide Premium has no preservatives, hormones or other additives.
Dosage
The recommended dose is 3 capsules, half an hour before a workout. You can also take an additional 3 capsules in the morning. Rest days, you can take 3 capsules with breakfast and if you wish, you may take another 3 capsules with your evening meal. Do not exceed 6 capsules per day.
Possible Side Effects
When taken correctly, Nitric Oxide Premium is completely safe and harmless. Do not exceed recommended dose as it can lead to low blood pressure.
Price
These Nitric Oxide Premium capsules can be bought in different sized packages to suit your needs. These packages are available for purchase online from the manufacturer's website.
1 month supply: $48.

4 month supply: Buy two bottles and get two free for a total of $112.

6 month supply: Buy 3 bottles and get 3 free for a total of $138.
Guarantee & Feedback
Nitric Oxide Premium comes with a solid 90-day money back guarantee, no questions asked. This is really great news for consumers who can actually test out the product for a good few months to check if it works for them. Their guarantee states that you can return all the bottles (even opened ones) and you will receive a full refund. This gives you confidence in a company who can stand behind their products and provide only the best for their customers. We have also read verified reviews from many consumers who have been using Nitric Oxide Premium and have reported quicker recovery time from intense workouts.
Our Conclusive Review About Nitric Oxide Premium
This naturally produced gas in the body, allows blood vessels to become more relaxed. The enhanced blood flow generates an increase in oxygen and essential nutrients that are needed to build bigger muscles. Nitric Oxide Premium not only enhances muscle development during exercise but will also aid recovery after your workout. Enhance muscle growth, improve lean body mass, increase endurance and aid post-workout recovery time with Nitric Oxide Premium. The 90-day money back guarantee is a great way for customers to test this product and make sure they are fully satisfied with the results.
Bringing you top reviews and product analysis - Consumer Advisors.