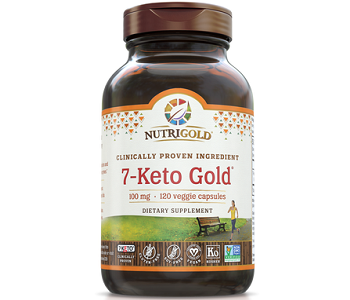 User Ratings (

0

Votes)

0
This 7-Keto Review examines this dietary supplement in more detail: The manufacturer, NutriGold, claims that this product will help to boost metabolism and a healthy BMI, through the process of activating key thermogenic enzymes. Read our review to learn more about this metabolizing booster and weight-loss product.
Ingredients
One capsule contains 7-oxo-dehydroepiandrosterone acetate (100 mg) as the only active ingredient. This substance helps to support weight loss, by activating thermogenic enzymes. After the age of 30, the natural production of metabolites drops. At 40, the body produces a mere 50% of metabolites produced in your twenties. Supplementing can help to restore levels, and help one to age healthily. The inactive ingredients include rice flour and plant cellulose for the capsule. These capsules are free from gluten, egg, milk, peanut, shellfish, and soy, and do not contain any additives, and no magnesium stearate.
Dosage
The manufacturer recommends that adults take one (1) capsule twice per day, eight hours apart. Alternatively, take the capsules as per instruction from your health-care provider. However, the manufacturer fails to indicate whether these capsules should be taken with or without food or water for optimal results.
Price
7-Keto Gold is available through retailers, naturopathic doctors, and online stores, but is not available directly from the manufacturer. On one online site we found a bottle of 120 capsules available at $47.99. This was a discounted price (original price being $63.98). The same bottle is available online at Amazon at $38.00.
Guarantee & Feedback
Despite our efforts, we were unable to find a manufacturer's guarantee of any kind on this product. This raises some concerns about the effectiveness of the dietary supplement. However, this is also partly because the manufacturer does not sell this product directly, using third-party agents to market this product. Therefore, buyers will need to investigate each of these outlets to determine their individual return policy, if any. Of the 239 reviews on Amazon, more than 80% of the reviews could be classified as being of high quality, with minimal levels of deception. The star rating was three out of five, meaning that the product was average.
Our Conclusive Review About NutriGold 7-Keto Gold
The dietary supplement 7-Keto Gold seems a useful product for weight loss. This all-natural supplement is free from most common elements that can trigger an allergic reaction, and has been tested by third parties for purity and potency. The reviews, although not numerous, were of high quality and could be trusted. There are, however, some concerns about this supplement. Firstly, our research was unable to find a GMP certification for this product. This would indicate the purity of the content and whether the label and the ingredients match. Secondly, this product lacks a guarantee from the manufacturer themselves. This raises concerns about the effectiveness of this product. Lastly, this product is not available directly from the manufacturer, only from other dealers. Prices all differ: this indicates that the price is not locked, each dealer adding on their own costs, making it more expensive on some sites than on others.
Bringing you top reviews and product analysis - Consumer Advisors.