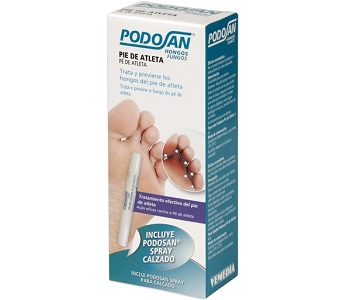 User Ratings (

0

Votes)

0
The subject of this review is Podosan Athlete's Foot. Athlete's foot is a fungal infection that causes scaling, flaking, and itching of the affected area. This anti-fungal product aims to treat as well as prevent this infection of the skin. The manufacturer claims that it is very effective and fast acting. This product comes with a foot pen, as well as a shoe spray.  Keep on reading to see if Podosan Athlete's Foot can help you solve your problem.
Ingredients
Podosan Athlete's Foot contains a penetrating fluid that has been specially combined with a patented extract containing amino acids, anti-fungal substances, and proteins that help with the natural healing process. One of the main ingredients found in the foot pen is undecylenic acid. The product also comes with a shoe spray that contains alcohol denat and water. This spray is used in order to prevent reinfection, by spraying it into the shoes.
Unfortunately, we do not know what concentration of this substance was used in the product. When looking at effective product, we see that 25% undecylenic acid is used to treat and eliminate fungal infection. If this product does not contain this concentration, it might not be as effective.
Dosage
The manufacturer suggests that users start using the foot pen at the first sign of infection. Users must start by washing their feet and carefully drying them with a towel. Then, take the foot pen and twist the dial on top of the pen 5 to 8 times, or until the first drop of the product comes out of the rubber tip. The solution must be applied twice a day, preferably once in the morning and once in the evening, for at least 4 weeks. Allow 1 to 2 minutes for the product to dry before putting on socks or shoes. The skin should start improving within the first few days of treatment. The symptoms should start disappearing within 2 weeks. Use the shoe spray 2 to 3 times once a week.
Price
We were unable to find a price for Podosan Athlete's Foot on the manufacturer's website. The manufacturer does not have a list of online retail stores where the product can be purchased from. We were also unable to find any online retail stores where the product can be purchased. This is very unfortunate and does not show professionalism as this information is crucial.
Guarantee & Feedback
After studying the manufacturer's website, we were unable to find any evidence of a money-back guarantee. The lack of a guarantee may indicate that the manufacturer does not believe their product is capable of providing positive results.
Our Conclusive Review About Podosan Athlete's Foot
With the completion of this review, we have found a few things that we like about Podosan Athlete's Foot. The product comes with an easy to apply foot pen and also provides their customers with a show spray to prevent reinfection.
Nonetheless, the review has also highlighted a few negative points that need to be addressed. The manufacturer does not state the concentration of undecylenic acid, where in comparison with effective products, 25% is needed. Furthermore, the manufacturer does not provide their potential customers with a price or a location where one can make a purchase. Lastly, the manufacturer does not provide a return policy. These reasons lead us to believe that the manufacturer is not confident in their product and that the lack of crucial information supports this observation. We do not recommend Podosan Athlete's Foot.
Bringing you top reviews and product analysis - Consumer Advisors.