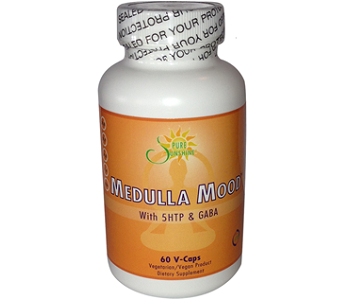 User Ratings (

0

Votes)

0
Today we will review Medulla Mood by Pure Sunshine Supplements. Stress and anxiety can take a toll on even the most emotional and mentally strong people. That's why it is so important to take care of your emotional and cognitive functioning in a way that works for you. Stress and anxiety have a way of not only impacting your daily performance but it can also bring you down physically by undermining your immune system. Medulla Mood claims to stop this from happening by relieving stress and tension. This product calms your nervous system and can also help you to maintain a regular sleep cycle. If this product sounds appealing to you, read our review below.
Ingredients
Ingredients in this product include Vitamin C, Vitamin B6, Magnesium, 5-HTP, GABA, Passion Flower Concentrate, Linden Powder, Skullcap Powder and Rhodiola Rosea Extract. Rhodiola Rosea Extract and Skullcap Powder are responsible for steadying nerves and also helps to build resistance to stress. Vitamin C and Vitamin B6 are powerful antioxidants which build up your immunity and they also aid in making neurotransmitters and serotonin. Magnesium is a natural anti-stress mineral and GABA promotes relaxation and eases nervous tension.  Passion Flower Concentrate is known to reduce anxiety and helps to improve sleep.
Dosage
It is recommended that you take 2 capsules of Medulla Mood per day. This product should be kept out of reach of younger children.
Possible Side Effects
This product uses natural ingredients so side effects will be minimal, however, this product is not intended to treat serious psychological conditions. Some of the ingredients in this product can have mild side effects which include bloating, gas or nausea.
Price
This product is available on the manufacturer's website. For one bottle, containing 60 capsules, you will be charged $29.95. Your shipping costs will be included in this price. Unfortunately, we could not find any discounts or free samples concerning this product.
Guarantee & Feedback
You are eligible for a 60-day money back guarantee if you buy this product from the manufacturer's website. The refund is limited to 1 opened bottle per order and you will be responsible for shipping and handling costs. Every sealed bottle you send back will also be charged a $5.00 restocking fee. If you ordered in bulk you will also not be eligible for a refund. The reviews regarding this product on Amazon are mostly positive but there were some people who were completely dissatisfied with this product. Those reviewers stated that this product did not help to alleviate their stress and anxiety and that the product was simply not worth buying.
Our Conclusive Review About Pure Sunshine Supplements Medulla Mood
We like that this product uses natural ingredients that have been proven to help alleviate anxiety. We also like that you get a 60-day guarantee when buying this product, which provides some peace of mind when it comes to your hard-earned cash. However, we also feel that this product is much more expensive than similar products currently on the market. We also feel a bit uneasy about some of the reviews left on Amazon regarding this product.
Bringing you top reviews and product analysis - Consumer Advisors.