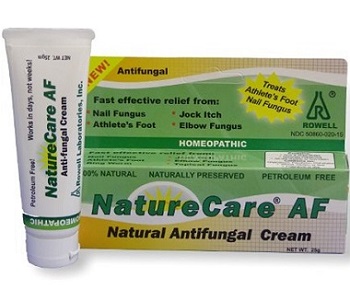 User Ratings (

0

Votes)

0
This is a review of Rowell Laboratories Nature Care AF Antifungal Cream. It is a product that is intended to provide relief from fungal issues, like fungal based dermatitis, jock itch, nail fungus, ringworm  and athlete's foot. According to the manufacturer this product consists of natural ingredients and is free from synthetic ingredients and preservatives.
Ingredients
Zinc Sulfate (homeopathic) is the only active ingredient in this cream. The manufacturer claims that when this ingredient is combined with its low PH formula it is effective in providing relief from fungal infections.
Inactive ingredients are: Vitamin E, distilled green vitriol, vegetable glycerin, grape seed oil, sunflower oil, shea oil, aloe vera, purified water, vegetable emulsifying wax NF
Dosage
It is recommended that you clean and dry your hands completely before applying the cream. Apply the cream once to three times a day or as required.  There is no instructions as to how much one should apply, which is concerning because that puts the health of the customer at risk. They might apply to little and not benefit, which means that they have wasted their money, or they apply too much, which could be dangerous.  It is very important to provide clear instructions when dealing with something that could one's life in danger.
Possible Side Effects
This product is not safe to use on children who are two years and younger. It should not be used as a diaper cream either.
Price
Nature Care AF Antifungal Cream can be purchased from online retailers. The price varies between $25.87 and $29.65.
Guarantee & Feedback
We searched the manufacturer's website and those of third-party retailers, and we did not find any information about guarantee. There are also no reviews on this product, which is concerning.
Our Conclusive Review About Rowell Laboratories Nature Care AF Antifungal Cream
Rowell Laboratories Nature Care AF Antifungal Cream might be helpful in providing relief from fungal infections. Zinc Sulfate has an ability to kill fungus on the skin. However, we are not sure if the zinc sulfate in this product can really do that. There is no information provided on the amount of the ingredient. It is also not indicated how much an individual should apply on the skin, which is concerning as this may put the health of the consumer in danger. We thought that we might find some insight from the reviews, however, to our disappointment we did not find any reviews. Consumer reviews are important because they help consumers in making a purchasing decision, and it also gives them an idea what to expect if they end up buying the product. What is even more disappointing is that the manufacturer does not offer any guarantee. This gives us an idea that they are not even confident on the effectiveness of their product. Therefore, it would not make sense for us to recommend something that even its manufacturer does not have confidence in, let alone the downsides that we discovered about it. Rather look for something that provides you with all the information you need, and protection.
Bringing you top reviews and product analysis - Consumer Advisors.