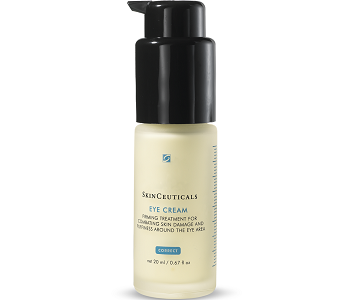 User Ratings (

0

Votes)

0
Finding an eye cream that truly addresses lines and wrinkles can be a bit like looking for a needle in a haystack. Because the area is so delicate, it requires extra nutrient attention in the form of collagen, peptides, hydration and more. These smooth, firm and rejuvenate the area. No doubt about it, the eyes are the first point of contact with another, but also the first to show signs of aging, so most of us are keen to manage those pesky crows' feet! The product we review today, Eye Cream for Wrinkles, is manufactured by SkinCeuticals. The manufacturer says it can help firm facial skin surrounding the eyes, stop the early signs of aging and correct dark spots below the eyes.
Ingredients
Ectoin
Eye-specific peptides
Peptides are critical as they form the bases of collagen, which gives skin its firmness and elasticity. Skinceuticals says these are not just random peptides but have been specially selected to reduce puffiness, sagging and dark circles. In addition, Centella Asiatica also works to improve the skin's elasticity. Ectoin is what the manufacturer has used to fight off environmental aggressors that age your skin. It, therefore, performs an antioxidant function. As far as antioxidants though, we would have preferred to see algae extracts instead, as these contain the most potent antioxidants to not only stop lines and wrinkles but actively undo them. Vitamin E is a crucial antioxidant, as is vitamin C. They are clinically proven to be an unbeatable duo, as they also stimulate the skin into producing collagen. However, they do not seem to receive proper prominence in this formula. Without the exact dosages being declared, it is not possible to see if an effective amount of Vitamin E has been included. The other missing major Vitamin is B5. It contributes to four critical areas of working: hydrating, soothing, healing and stimulating new cells. We also do see forms of hydration present but they are not the powerful compounds we expected to see, nor is it clear if the silicone used to seal in this moisture is medical-strength, which is what the most effective products, as proven by independent data, use.
How To Use
The manufacturer says this cream is suitable for normal, combination and oily or aging skin. This is an important clarification as it is not always the case. Pump a small amount of Eye Cream onto your fingertips, then dab below and around your eyes, avoiding the upper eyelids. You can dab cream on your browbone but avoid smearing any on your actual elbows. However, it is curious that you need to avoid your upper eyelids, as fine lines and creases often form there as well.
Price
A 0,67 oz pump bottle retails for $72 when you purchase it from the product website. There are no discounts for buying multiple bottles, but you will be given a code which you can use to receive a free Resveratrol B E deluxe sample to the value of $20 with all orders.
Guarantee & Feedback
No exchanges are available. If you follow the necessary authorization procedure and return the product within 30 days you'll receive your return. You will be 'supplied' with shipping so it comes at no cost to you. This 30-day guarantee is good, but not as strong as the simple, clear 60-day returns policies of leading cosmetic houses. Some of these houses are even offering a window period of up to 365 days in which to return a product. This means they are supremely confident in their offerings. There are not many consumer reviews for the cream but the ones that do exist generally rate the product as being above-average or good.
Our Conclusive Review About SkinCeuticals Eye Cream for Wrinkles
If is not every day that we come across Centella Asiatica and Ectoin being used in an eye cream. Clearly, research has been done to bring to market quite distinct ingredients. The cream delivers some good protective and healing properties. We also like that the cream is suitable for a range of skin types.
However, there are some crucial ingredients – clinically proven as the heavyweights required in an eye cream – that we cannot gloss over. These are Vitamin E and B in particular, with the issue around Vitamin E being the dosage: we cannot tell if it is high enough to make an impact. Other critical ingredients missing include the likes of Passion Flower and Alpenrose. It is also always concerning if a manufacturer claims to use clinically proven ingredients, or a synthesis of ingredients that has been 'proven' to work, but offers no proof. Describing the effects is not proof – links to actual clinical trial studies or journal research would constitute hard evidence, but this is not provided. In the absence of this, we would have then thought that these ingredients would have been patented, given their novelty and purported superior efficacy. This has not been done. Compare this to leading cosmetic houses, who offer factual proof: a common denominator is that they have included a minimum of five patented ingredients. Despite that fact that this formula seems to work hard and is innovative, we do not think it matches best-in-class products.
Bringing you top reviews and product analysis - Consumer Advisors.