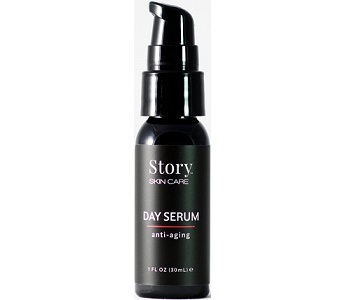 Quality of Ingredient

7.5

User Ratings (

0

Votes)

0
Story Skin Care Day Serum calls their serum an 'elixir of life'. It is what our review focuses on today. The manufacturer says it is a strong serum for all skin types that is nutrient-dense. It purportedly leaves your skin younger looking, giving you a tighter and smoother visage. As there are specific scientific criteria and ingredients which are clinically proven to bring about the results this serum 'says' it can do, evaluating the efficacy of the serum will be done against these well researched, vetted and published findings.
Ingredients
BiovaDerm (Hydrolyzed Eggshell Membrane)
Jojoba Oil
Vitamin C
Vitamin E
Green Tea Extracts
Rosemary Oil Extract
Grape Seed Extracts
Co-Enzyme Q-10
Bergamot and Neroli Essential Oils
It is always good to see Vitamins E and C in a serum as these are antioxidant in nature and also stimulate collagen growth. They are more mandatory in a moisturizer, although certainly not out of place here. COQ10 is vital to every cell in the body, as it works with the cell to help it to repair itself and defending itself against invaders which may age it. These antioxidant effects are further enhanced by Grape seed extracts, green tea extracts as well as rosemary extracts. Jojoba and Shea are highly nutrient-dense and hydrating oils as is the Bergamot and Neroli Essential Oils. Plant carrier oils are often used as they sink deeply into the skin, reaching sub-dermally as required. However, the inclusion of Shea and Jojoba is intriguing, as they are not the lightest and are therefore more suitable to a moisturizer. The clinical recommendation instead includes wheat extracts, Electric Daisy, Alpenrose, Willow Herb Flower and the potent antioxidant power of algae. These are all absent from this formula.
How To Use
Massage Day Serum onto your skin after in the morning and at night after having cleansed it. Follow this up with moisturizer. The instructions are adequate, although we are not told how much you should use and whether you should massage in the serum or leave it to sink in.
Price
A 1 oz pump bottle costs $65.00 on the product website. There are no discounts. If you are a new customer though you could try all three of the manufacturer's products for the price of one.
Guarantee & Feedback
Unfortunately, the manufacturer does not offer any word on a returns or guarantee policy even though we searched quite hard. This is quite strange given that the manufacturer claims it has and wants to instill utmost confidence in its consumers. A strong return or guarantee policy would go a long way towards doing this. There don't seem to be any independent reviews. The consumer reviews on the product website are all equal in their high praise of the product. Due to the error-free nature and same high product rating, there is at least a reasonable possibility that these reviews were edited.
Our Conclusive Review About Story Skin Day Serum
The product is chemical-free as well as gluten-free and these are two positives. The main active ingredient is BiovaDerm, which is unusual. It nourishes and protects your skin in the same way that it would do so for an egg. This ingredient seems to have been patented by the manufacturer, meaning you are getting a superior form of it that delivers more or unique properties, as this is what needs to be proven in order for a patent to be granted. However, it is important to note that the criterion is a minimum of five such patented ingredients in order to increase the likelihood that a serum is delivering maximum all-around skin-beneficial impact. This single patent, therefore, falls short of the criterion. The kind of patented ingredient you would hope to see included involves vitamin C, resveratrol and other collagen, antioxidant and hydration enhancers. This formula is also missing key advanced clinically proven components as discussed under Ingredients. Our overall finding at the end of the day, too, is that the nature of the compounds included is more geared towards that of a moisturizer, and not specific enough for a truly hard-working, light day serum.
Bringing you top reviews and product analysis - Consumer Advisors.