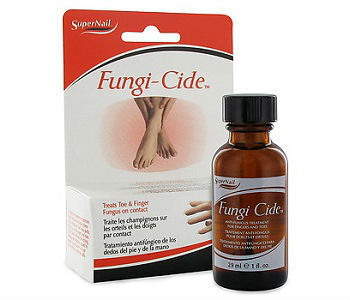 User Ratings (

0

Votes)

0
Super Nail Fungi Cide is produced to treat common finger and toe fungus, plus surrounding infected areas of the skin on contact. Taking a closer look at the official website, we noted that they do not supply any detailed information on the use, ingredients and benefits of their product.
While visiting various retailers we found the following features regarding Super Nail Fungi Cide:
The treatment works for common fungus infections, including ringworm and athlete's foot
The product will assist you with the relief of itching, burning and irritations caused by fungus
Super Nail Fungi Cide works by penetrating through the service of your nails to quickly eliminate fungal infections. The product has received 4/5 stars from ten reviewers found on the retail site, advising that the product is great and works with results in 6 months of starting to use the Fungi Cide.
Ingredients
Super Nail Fungi Cide is available in a brown medicine type bottle with a brush that holds 29 ml of fluid.
Formula of Super Nail® Fungi Cide
Isopropanol
N-Methylpyrrolidone
Glycol Ether
Isoparaffin
Chloroxylenol
Tolnaftate is used to treat the fungal infection
Benzocaine is used for relief of the discomfort caused by fungal infections
Aloe Vera used to moisturize the skin
Vitamin E used to heal the skin
Dosage
The producer advises that you clean the infected areas with water and soap, dry thoroughly and apply a thin layer of the Fungi Cide over the infected areas twice a day and allow drying.
No side effects known with the use of the treatment except for two customers who had experienced that their nails chipped and broke off.
Price
The Fungi Cide can be bought from different online retailers and sells for $6.95.
Guarantee
There are no known guarantees when buying the product and this will have to be taken up with the seller you are buying the product. As some retailers do have guarantees in place when buying products.
Conclusion Of Our Super Nail Review
The product comes with some excellent reviews when using the treatment, and seems to work well with clients who have bought the product. However, it does not come with any form of money back guarantee or there is any proof that it is FDA inspected.
Bringing you top reviews and product analysis - Consumer Advisors.