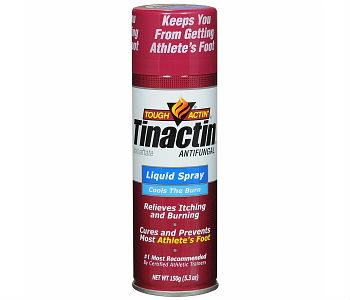 User Ratings (

0

Votes)

0
The Tinactin product is available in both a spray and cream form that can be seen on the official website.
The product aims to relieve the burning and itching sensation, plus cure and prevent the return of athlete's foot, jock itch and ringworm.
The official website provides you with a search section to choose which product is well suited for you in buying the correct product for your problem on hand, so I tried the search on anti-fungal for nails and hair, after finding out my solution I decided to take a close look at this product.
When using the Athlete's foot cream they advise you that it will fight fungal infections plus relieve the uncomfortable burning and itching sensation that is caused.
While using the Liquid Spray it provides the same effects as the cream, but also helps with the cracking of your foot and aids in curing ringworm.
Tinactin comes in very shining purple and white packaging. The spray is in a canister, while the cream is in a tube within provides in a box.
Ingredients
In the Tinactin cream:
The active ingredient is 1% of Tolnaftate: an anti-fungal
Inactive Ingredients:
Ceteth-20,
Cetostearyl Alcohol,
Chlorocresol,
Mineral Oil,
Propylene Glycol,
Purified Water,
Sodium Phosphate Mono-basic
White Petroleum.
In the Tinactin spray:
Active Ingredient holds 1% Tolnaftate that acts as an anti-fungal.
Inactive Ingredients:
Alcohol denat. (29% v/v),
Butylated Hydroxytoluene,
Isobutane
PPG-12-buteth-16.
Dosage
The cream:
You need to wash the affected area and dry thoroughly, then apply a thin layer of the cream on the affected area twice a day. When using the cream you should take notice of the spaces between your toes. It is suggested that you should wear close-fitting, aerate shoes, plus change your shoes and socks at least once a day. Continue using the product daily for 4 weeks.
The spray:
Firstly, you should wash infected area and dry thoroughly. Shake the Tinactin® canister well and cover a thin layer over the affected area twice daily.
For athlete's foot fatalities, they must pay special attention to spaces between their toes; wear secure, circulated air shoes and change their shoes and socks at least once daily. Tinactin should be used daily for 4 weeks. For the prevention of athlete's foot, apply Tinactin once or twice daily.
Side Effects with using the both the cream and spray:
Can cause skin irritation
Allergic reactions like; rashes, hives, itching, breathing, chest tightness, mouth swelling.
Price
A three pack of Tinactin spray can be bought on Amazon for just $20.35.  This is a great price for three 4.6 oz spray canisters, at under $7 a can.
The 1oz Tinactin cream is sold on Amazon for $10.17 for one tube or $19.94 for two tubes.
Guarantee
Tinactin has no guarantee available on their website; though they do have a voucher for potential buyers to use when buying products online.
Conclusion Of Our Tinactin Review
We were able to stumble on various reviews for both categories of products on Amazon, the Tinactin cream held a 4.5/5 star rating from 16 reviews, which is an enormous indication for future buyers. The Tinactin spray in addition has a 4.5/5 star review from 44 customers, which is another amazing sign for buyers.
Although they claim that their product is tough in keeping athlete's foot under control that contains Tolnaftate, which has been proven to work for those suffering of it, this product will prevent fungal infection. However, it will not cure fungal infection in your nails and toenails.
Bringing you top reviews and product analysis - Consumer Advisors.