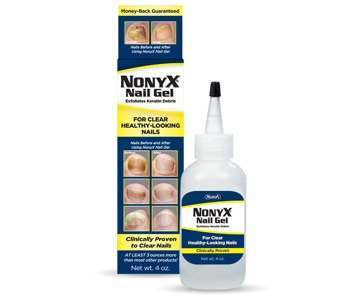 User Ratings (

0

Votes)

0
Discolored nails can truly be bothersome especially in warm weather when you want to wear open-toe footwear, but even during the winter, showing up in the locker room with discolored nails is not ideal. With so  many nail remedy solutions out there, it is important to determine which one is right for you. In this Nonyx Nail Gel review, we present all the details about this product so you'll have an easier time deciding if this is the one. Nonyx Nail Gel is said to clear up nail discoloration and return nails to an attractive and healthy appearance by breaking down and removing the dead keratin debris under the nail.
Ingredients
Deionized Water
Ethanoic Acid
Fragrance
Ethanoic acid is the active ingredient. A colorless organic compound, it helps soften the dead keratin debris for easy removal. The xantham gum is used to hold the other ingredients together and keep it from being too runny.
Dosage
This product should be applied on the affected area twice a day (one to two drops per application) preferably after taking a bath. Use the applicator tip to spread the gel evenly on the nail surface and wait for several minutes before covering it with socks or other footwear. The product's website also suggested to roughen the flat area of the nail surface once a week with an emery board to enhance gel adhesion. After 3 – 4 weeks of application, begin scraping the area using a manicure tool intended for this job and make sure to wash this tool every time you finish scraping.
Price
One bottle (4 oz.) which is good for 6 months of use is available via the product website for $24.99. Coupons that could help you save as much as $5 per purchase are also available at the product's website. You can also buy the product at Amazon for $20.93.
Guarantee & Feedback
The product comes with a money-back guarantee. All you have to do is send the unopened bottles along with your name, address, receipt and indicate that you want a refund. The company accepts both opened and unopened product for refund. However, the time period in which the product should be returned is not mentioned on the product website.
Amazon customer feedback ratings are reasonable with 76% positive and 16% negative at the time of writing, from over 500 customer reviews. Most of the negative comments noted that it simply didn't work, but it seems many of them were trying to treat nail fungus rather than keratin-buildup discoloration.
Our Conclusive Review About NonyX Nail Gel Review
The product is very affordable price given that your $24.99 should last for six months. While the instructions for use are clear, the process, like with many nail-treatment products, is somewhat cumbersome. Perhaps the most important issue to point out is that this product does not get rid of nail fungus, nor is that its purpose; it only addresses nail discoloration which is caused by keratin buildup. The refund policy seems customer-friendly (although potential customers may want to contact the company to clarify if there is a time limit on returns. The recommended three to 12 month treatment time is long but it seems that is due to the rate at which nails grow.
Bringing you top reviews and product analysis - Consumer Advisors.