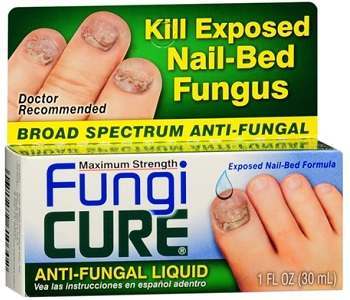 User Ratings (

0

Votes)

0
In this review, we will look at FungiCure and help you decide whether this product meets your expectations. FungiCure is a clear and colorless anti fungal solution that claims to deal with a wide variety of fungal infections. This product claims to stop the growth and reproduction of fungal cells on fingers, toes and on skin around the nail edges and under the nail tips. It is also said to relieve the scaling, cracking, redness and burning sensation caused by fungal infections. Aside from that, the product also  claims to be non-messy as it comes with a free brush on applicator which enables you to apply the solution or gel on the sites that are hard to reach, without using your fingers.
Ingredients
The product's active ingredient Undecylenic acid, in a concentration of 25%. It has long been used to treat different kinds of fungal infections. This colorless organic compound works by destroying the fungi cells period. The product also contains Aloe Vera gel, Vitamin E and purified water which help in maintaining the moisture of skin, soothing the damaged area and promoting healthy nail growth.
Dosage
According to the product website, the best way to apply FungiCure for fungal infections of the finger and toe area, is to apply the liquid to all infected areas of the skin, including the skin around and adjacent to the nails including cuticles, under the nail tips, and on the skin under the nail in cases wherein the nail has actually separate from the nail bed itself.
Before applying, wash the affected area with soap and warm water and dry well. Apply the product in a thin layer over the affected area twice daily or as directed by your doctor. You can expect the product to take some four weeks to produce results. If you see such results at that time, continue using it. If not, discontinue use.
Possible Side Effects
This product contains Undecyclenic Acid which can sometimes cause irritation and redness in the area of application.
Price
This product is readily available for an online purchase through a number of online retailers. As of the time of writing this product was available at Walmart, CVS and Wallgreens for $8.48, $13.49 and $11.99 respectively. If you're living in the United States, you can request for a coupon at the product's website.
Guarantee and Feedback
The return policy and guarantee will greatly vary depending on where you purchase your product. You can contact the manufacturer via their website or hotline and ask for a "Return Request letter" in order to assist you in obtaining a refund from the retailer where you purchased the product.
The product had just under 60 customer reviews on Amazon at the time we researched it with a reasonable positive to negative feedback ration of 74% positive and 22% negative. While not a stand-out ratio, it is a little better than average for nail remedy products.
Our Conclusive Review About Alva Amco FungiCure
The product seems to contain the recommended concentration of its active ingredient for it to be effective in dealing with nail fungus and user reviews overall seem positive. We also like the fact that the four-week initial treatment period (ie. how long it will take to see results) is not overly long for this category of product. However, there is no indication from the manufacturer how long it should be used beyond the four-week period. We are also disappointed in the lack of a manufacturer backed refund policy.
Bringing you top reviews and product analysis - Consumer Advisors.