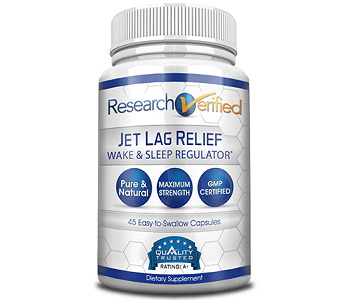 User Ratings (

0

Votes)

0
This supplement review will be something travelers will want to read. One of the biggest hurdles faced when traveling across multiple time zones is the jet lag. For most people it leaves them fatigued, sleeping fitfully and at odd hours; some also experience nausea. These are not the ideal circumstances when you're away from home, especially if you're on a business trip; but even if you're just on vacation. This is where our review of Research Verified Jet Lag Relief comes in. According to the manufacturer this product contains all natural ingredients to help you reset your circadian rhythms (your body's internal clock) and get on with what you traveled all that way to do. The product is said to help calm and relax so you sleep better and feel better mentally and physically.
Is this supplement a worthwhile purchase? Read our full review below to find out.
Ingredients
Research Verified Jet Lag Relief contains a list of natural ingredients the manufacturer says have been proven effective in alleviating stress and calming both the mind and the body. It utilizes L-Ornithine (200 mg) and L-theanine (100 mg), both of which are known to alleviate feelings of mental and physical fatigue. It also contains GABA or gamma-aminobutyric acid which helps in controlling anxiety. Chamomile is of course, a well-known relaxant. Ashwagandha is an herbal remedy that has many health benefits, one of which is treating sleep disorders. Finally, DMAE or dimethylaminoethanol, is a mood elevating substance that will help you further relax. Interestingly, it contains no melatonin.
Dosage
Travelers are advised to take two capsules 30 minutes before their flight and another two capsules after arriving at their destination. It is advisable to continue taking one capsule a day until symptoms of jet lag disappear completely. It should only take 2 to 3 days for jet lag to disappear. Read this Research Verified full review to see how this manufacturer formulates their products according to clinical studies. This is how you know you will be taking an effective dosage.
Possible Side Effects
As Research Verified Jet Lag Relief only uses all natural ingredients, side effects should not occur. However, it is best to stay safe and consult with a health professional before using supplements or medications that are unfamiliar to you.
Price
You can purchase Research Verified Jet Lag Relief through the manufacturer's website and you can buy it by the bottle (each has 45 capsules) or in multi-bottle packages at discounted prices.
One bottle – $48
3 bottles – $98 ($33 per bottle)
6 bottles – $142 ($24 per bottle)
Guarantee & Feedback
Research Verified Jet Lag Relief comes with an impressive 365-day money-back guarantee. This is an impressive return/refund time frame giving even occasional travelers ample time to determine its effectiveness. And the policy covers both opened and unopened bottles, so it's quite comprehensive.
There were not enough reviews of this product on Amazon for us to be able to conclusively determine anything about its effectiveness from those who have tried it.
Our Conclusive Review About Research Verified Jet Lag Relief
All in all, Research Verified Jet Lag Relief looks like a step in the right direction for travelers who suffer from jet lag. It incorporates all natural ingredients, all of which are known to help in relaxing the nerves, minds and treat sleep disorders. The discounts are great and you don't need to worry about taking advantage of them given the one-year money back guarantee. This is a risk free supplement that you should definitely check out if you have jet lag problems.
Bringing you top reviews and product analysis - Consumer Advisors.