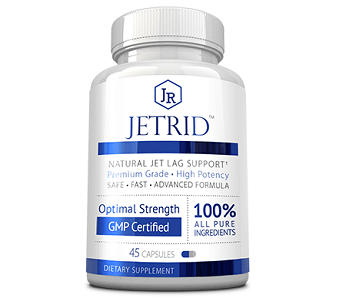 User Ratings (

0

Votes)

0
This is an in-depth review of JetRid. If you're the type of person who travels a lot, chances are your circadian rhythms are off-key. This is because of the different time-zones of the places you go to. JetRid aims to improve your sleep/wake cycles (also known as Circadian Rhythm) because of the ingredients that it has such as L-Ornithine and DMAE Bitartrate.
JetRid is a supplement that will help you fight jet lag. The manufacturer claims that it has a four-step process to naturalize your circadian rhythm. The four steps are Relax, Support, Boost, and Balance. Read on to find out if JetRid does indeed help you combat jetlag.
Ingredients
Magnesium
Calcium
Vitamin B Blend
L-Ornithine
Chamomile (4:1)
DMAE Bitartrate
L-Ornithine is an interesting ingredient becomes it is very well known to be effective for jet lag. It helps your body by improving positive sleep patterns as well as fight exhaustion. L-Theanine adds more focus and reduces anxiety. Ashwagandha is another popular herb in that it has been extensively used in Ayurvedic medicine for treating stress and it also boosts energy levels. DMAE Bitartrate is responsible for producing vital chemicals that promote good sleep regulation and mood.
Dosage
As a dietary supplement, it is recommended to take two (2) capsules 30 minutes before taking off and another two (2) capsules upon arrival. For maintenance, just take one (1) capsule per day until the jet lag disappears.
Possible Side Effects
JetRid is an all-natural product and that the ingredients used in it have no documented side effects. Although, the label states not to exceed the recommended dose. Stop taking JetRid if the Jetlag Disappears. Moreover, if you are pregnant, a nursing mother, under the age of 18, or if you're a person suffering from any medical condition, it is advised to consult a doctor first before taking JetRid.
Price
JetRid can be bought in bundles so you will save more money. If you buy a 6-bottle bundle, you will only have to pay $139.80. Pay only $111.80 for 4 bottles, $69.90 for 2 bottles and $49.95 for one bottle.
Guarantee
JetRid comes with a 60-day money back guarantee. If you are dissatisfied with the results of using the product, you can return the bottle and the manufacturer will refund your money, with no question asked! Furthermore, the customer should shoulder any shipping cost.
We've also found a lot of good reviews for this product. Some claim that after taking JetRid, it only took a few days for them to experience their normal sleeping habits again. Some also report feeling a little more renewed versus the time that they didn't take JetRid.
Conclusion Of Our Approved Science JetRid Review
Among the other anti-Jet lag products out in the market, we've found that JetRid contains the most impressive list of ingredients to combat Jet lag. Furthermore, JetRid supplements were created in a cGMP lab that is also registered by the FDA, so you'll know that the quality of the supplements is top notch. JetRid is also backed by a 60-day money back guarantee, and with a slew of good reviews, this is probably a good product to get rid of Jet Lag.
Bringing you top reviews and product analysis - Consumer Advisors.