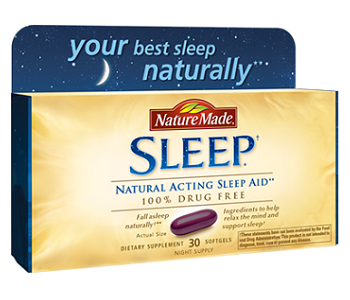 User Ratings (

0

Votes)

0
Many people struggle with travel sickness or jet lag. Upon arrival at your destination, you may find yourself unable to sleep, or unusually drowsy all the time as well as being irritable. This is because your 24-hour biological clock or circadian rhythms have been upset. The pineal gland is responsible for your sleep response and it mostly does so by releasing melatonin, which triggers the sleep response. However the body also relies on other internal bodily signals – and that assumes that your thyroid, which regulates many bodily processes, is working properly as it should. The body also relies on external signals, such as darkness. These signals are out of synch if, for example, you are suddenly transported to a place where you are 6 hours ahead or behind of time.
Nature Made Sleep is, as the name suggests, our sleep and jet lag aid under the spotlight today. It is marketed as a natural sleep aid that helps you get the rest you need at the time you need it without the use of drugs.
Ingredients
Melatonin – 5 mg
L-Theanine – 2 mg
Many sleep aids contain melatonin and this is not surprising, given that studies have shown it to be effective in helping to reset the sleep-wake cycle in a clinical trial specifically designed for jet lag sufferers. L-Theanine is an amino acid which boosts brain calming reactions and other levels of GABA, enhances alpha brain waves and mutes brain chemicals related to stress and anxiety.
Dosage
The 5 mg melatonin dosage is still considered to be within the normal range, although it is higher than the daily recommended average of 3mg. Anything higher than this should preferably be prescribed by a doctor as it can have far-reaching effects.
The product is not intended for children. Consult a doctor first if you are pregnant, breastfeeding or trying to conceive. Do not drive or operate heavy machinery when taking melatonin. Do not take this tablet if you are taking any medications or have any chronic disease, including high blood pressure, diabetes, or an endocrine, autoimmune, depressive, bleeding or seizure disorder.
Price
A pack of 30 softgels retails for $7.89 on Amazon while a pack of 60 softgels curiously sells for  $27.99, also on Amazon.
Guarantee & Feedback
Nature Made Sleep seems to be immensely popular with buyers and used to unanimously get good reviews. However, since 2016, verified purchasers have complained that the formula has been changed and state that despite labelling and website descriptions, only two ingredients are now included: melatonin and L-theanine. These users say that this new formula is ineffective compared to the original one, and also more expensive than buying other similar formulas.
We researched this and the formula has indeed changed – and the manufacturer has made every effort to present the new ingredient list on its website and label. So, while we do not agree that the new formula has not been publicized, we do agree that as per Nature Made themselves and the stated ingredients, the product no longer contains Lemon Balm, Passion Flower or any other of the extra herbal sleep aids it once did.
There does not seem to be a guarantee. No mention is made of this on the website, and your recourse would have to be to go through Amazon's third-party re-seller guarantee or via the re-seller you purchased your product from. As there is no explicit returns policy from Nature Made, this means you are likely only to get a return in the event of a wrong product having been dispatched to you, or of having received a defective product.
Conclusive Review of Nature Made Sleep
Nature Made Sleep is drug-free. It allows you to fall asleep naturally, enhancing and strengthening the body's in-built responses. Melatonin plus L-Theanine make for a sensible ingredient combination as both of these naturally occurring compounds are essential not only to getting sleep but the quality of sleep you'll enjoy.
On the down side, most of the positive feedback for this product stems from before the formula was changed. It is now manufactured minus the herbal sleep aids such as lemon balm and passion flower that were previously contained with several users complaining that it has lost some of its potency. It would probably depend on the degree of insomnia you have. The most crucial form a consumer point of view though is that the 60-count pack is expensive compared to other sleep aids with the same or a similar formulation, and there appears to be no returns policy. These are issues which may warrant you doing further research on other options that meet your price and consumer convenience expectations.
Bringing you top reviews and product analysis - Consumer Advisors.