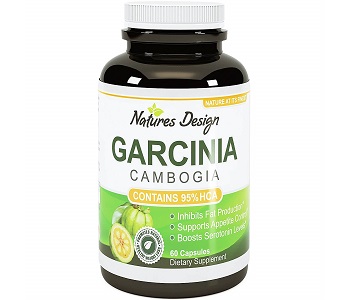 User Ratings (

0

Votes)

0
Today we review Garcinia Cambogia manufactured by Natures Design. Weight loss is best achieved by combining a healthy and nutritious diet with daily exercise, but there is no shame in investing in supplemental support if you feel that it can benefit your weight loss journey. Garcinia Cambogia claims to inhibit fat production, support appetite control and boost serotonin levels thereby helping you to shed those extra pounds. If you want to start taking your weight loss seriously and this product seems like the right fit for you, read the rest of our review below.
Ingredients
Potassium
Chromium
Garcinia Cambogia Extract
Cellulose
Magnesium Stearate
Potassium improves fatigue, stress, headaches and glucose transfer which can benefit your weight loss tremendously. Calcium is responsible for boosting your metabolism, building lean muscle mass and keeping your bones and teeth healthy. Chromium plays a very important part in the metabolic processes that help to balance blood sugar levels in the body. It also helps insulin to transport glucose into cells thereby providing you with energy boosts throughout the day. Garcinia Cambogia helps your body to actively lose weight by suppressing your appetite and providing a feeling of satiety.
Dosage
It is advised that you take 1 capsule on an empty stomach, three times per day. Take the supplement 30-60 minutes before meals and with a glass of water.
Possible Side Effects
If you take more than the prescribed daily amount of Garcinia Cambogia then you can experience mild nausea or diarrhea. Pregnant, nursing, or people taking prescription medication should talk to their doctor before taking this supplement.
Price
You can buy this product directly from the manufacturer's website. Each bottle costs $22.88 and there are 60 capsules per bottle. You can also sign up for the rebate program which requires you to give feedback on the product that you purchased in turn for $20. If you subscribe to their website you can also get coupon and promo codes that can be used on all of their products.
Guarantee & Feedback
The manufacturers of this product provide you with a 60-day money back guarantee. However, they do not specify in which condition you must return your product, or how much of the product you can use before returning it to be eligible for the refund. Unfortunately, there were a lot of negative comments regarding this product on Amazon. A lot of the reviews state that this product did not work and that it made the customers gain weight due to fluid retention.
Our Conclusive Review About Natures Design Garcinia Cambogia
We like that this product has a lot of diverse ingredients which helps you to lose weight more effectively, and it also helps to elevate your overall health. We also like that you get a 60-day guarantee with your purchase which can give you some peace of mind. However, this product is a bit pricey if you compare it to similar products on the market. The guarantee policy also does not stipulate the requirements that make you eligible for a refund. Some of the customer reviews were quite dire and certainly didn't convince us of the effectiveness of this product.
Bringing you top reviews and product analysis - Consumer Advisors.