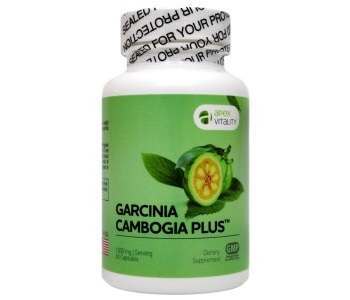 User Ratings (

0

Votes)

0
Losing weight can be both simple and difficult at the same time. Sometimes the body just won't cooperate. Even with a proper diet and exercise, some will experience a frustratingly slow weight loss process. In such instances it might be helpful to add a weight loss supplement into the mix. Garcinia cambogia diet supplements claim to help by suppressing your appetite and blocking fat buildup. In this review we take a look at one specific supplement, Apex Vitality's Garcinia Cambogia Plus. It claims the garcinia cambogia can double and even triple one's weight loss. Does it live up to its promises? Let's find out.
Ingredients
Apex Vitality Garcinia Cambogia Plus utilizes pure garcinia cambogia extract which is standardized at 75% HCA (Hydroxycitric Acid). This fruit is native to Southeast Asia and has been used to help suppress appetite and assist in weight loss for centuries. HCA in garcinia cambogia is said to not only block fat build up within the body but to help build leaner muscle mass. Of course, to achieve these results you need to chip in by working out daily.
Dosage
The recommended dosage for Apex Vitality Garcinia Cambogia Plus is one capsule, three times a day, 30 – 60 minutes before each meal. You can also take this supplement 2 hours after every meal if you prefer, just make sure to drink plenty of water. Please note that exceeding 3000 mg per day may cause side effects. Follow the instructions and stay well within the safe dosage levels.
Possible Side Effects
Garcinia cambogia extract is relatively safe to take, although certain cases of mild side effects might occur for some people. These side effects include headache, nausea and upset stomach. We also do not recommend taking this supplement during pregnancy and if you are currently breastfeeding. Diabetics should also first consult their doctors as HCA might cause your blood sugar levels to drop dangerously low.
Price
Apex Vitality Garcinia Cambogia Plus is extremely expensive compared with most garcinia cambogia-based weight loss supplements. At the time of our review you could purchase it for $82.98 per 60-capsule bottle. It does not come with any special discounts for bulk or multiple bottle orders. If you are set on this product you could buy it at the strangely decreased price of $31.99 on Amazon.
Guarantee and Feedback
Unfortunately, Apex Vitality Garcinia Cambogia Plus does not come with customer guarantee. Their website was extremely simple with little information readily at hand. We suggest you contact their customer support to learn specific details about this product. As for the customer feedback, we were only able to find a handful and the overall rating was mixed.
Our Conclusive Review About Apex Vitality Garcinia Cambogia Plus
Apex Vitality Garcinia Cambogia Plus should offer good results if used properly. It has little to no risk of side effects as it uses 75% standardized HCA. However, the optimum is 95% HCA which other garcinia cambogia weight loss supplement products utilize. Apex Vitality Garcinia Cambogia Plus is safer but results might also be slower. There is also the strange discrepancy in the pricing between the product website and Amazon, and the lack of a customer guarantee does not help its case at all. All in all, Apex Vitality Garcinia Cambogia Plus can yield results but you should likely look to other weight loss supplements.
Bringing you top reviews and product analysis - Consumer Advisors.