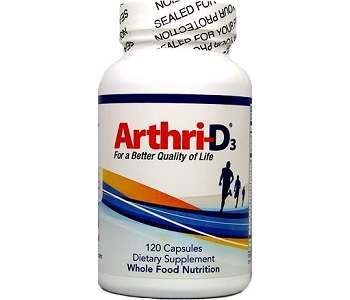 User Ratings (

0

Votes)

0
As we age, our joints can become more painful and less flexible and easy to move. This is because of wear and tear of the cartilage that makes up our joints. There are many products available that claim to help manage this joint pain and build up your cartilage to keep your joints healthy. This review takes a look at the supplement Arthri-D3 which claims to stand out because it contains 2000IU of vitamin D3. It claims to be a unique blend of all natural ingredients including antioxidants, phytonutrients, vitamins and minerals.
Ingredients
This supplement contains vitamin C, vitamin D, and magnesium. It also contains a 960mg blend of N-Acetyl-D-Glucosamine, chondroitin sulfate, rice flour, turmeric extract, Boswellia Serrata, Ashwagandha, yucca root, bromelain, evening primrose oil, Perna canaliculus, and hyaluronic acid. The manufacturer has not gone into detail about why these ingredients make their product so unique. Vitamin D maintains calcium levels which is important for healthy bones and teeth. N-Acetyl-D-Glucosamine acts as a joint lubricant which works to cushion the joints. Hyaluronic acid also works to increase the amount of fluid around the joints to act as a shock absorber. Turmeric is well-known for its anti-inflammatory properties.  We found it interesting that rice flour is included in the main ingredient list. This is used as a filler and products should generally avoid using fillers as it detracts from the ingredients that are designed to help with joint pain.
Dosage
The manufacturer recommends taking two capsules twice a day – a daily dosage of 4 capsules.
Possible Side Effects
The manufacturer has not mentioned any side effects of taking this product. As the ingredients are all-natural, side effects should be minimal, if any. Women who are pregnant or breastfeeding and individuals taking any other medication should consult a doctor before taking this supplement.
Price
One bottle of Arthri-D3 contains 120 capsules which works out to a one-month supply. You can buy this product online for $109.99 when buying directly from the manufacturer. The manufacturer's website links to a different page offering special prices but it does not seem to actually be the same product. If it is for the same product, they offer a Buy Two and Get One Free offer.
Guarantee & Feedback
The manufacturer offers either a 30-day money back guarantee or a 90-day money-back guarantee depending on the number of bottles purchased. If you bought a one-month supply, then you only have 30 days to return the product for a refund. If you bought three or more bottles, then you have 90 days to return the product. You need to return all the bottles purchased, even if they are open. You will be subjected to a $12 restocking fee.
This product has received very mixed reviews from users. We found the reviews on one retailer's site to be more negative than positive.
Our Conclusive Review About Arthri-D3
This product looks interesting with the inclusion of vitamin D3 which is good for calcium absorption. It also contains necessary ingredients for keeping joints healthy. However, it contains these ingredients in a blend so it is not clear how much of each ingredient is used. The inclusion of rice flour is worrisome as how much of that is used to bulk up the blend of ingredients? The price is very high and the many negative reviews lead us to suggest looking for an alternative product.
Bringing you top reviews and product analysis - Consumer Advisors.