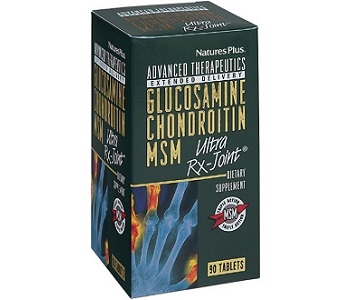 User Ratings (

0

Votes)

0
Today we review Natures Plus Triple Strength Ultra Rx-Joints.  This specially formulated supplement offers support to painful, swollen joints.  With a special, slow release outer layer, these capsules work all hours, you will benefit from the soothing powers from these capsules.
Ingredients
Not only does this supplement have glucosamine, chondroitin, and methylsulfonylmethane (MSM), this formula adds Celadrin and black cherry extract.  The first three ingredients are known to support healthier cartilage as well as joint function and mobility. Black cherry extract is said to be an anti-inflammatory, which can help ease symptoms faster.  Unfortunately, these claims towards black cherry extract have not actually been studied yet.
Dosage
The recommended dose of this supplement is four capsules per day.  This should be split into two doses of two capsules each. For additional support, you can double both doses, taking four pills, twice a day, for a total of eight capsules.  It is not stated, however, exactly when to take these pills, whether they should be taken with food, or how much water is needed to digest them properly.
Price
Each bottle of this supplement contains 120 capsules, which is enough for 30 days of a normal dose, or only 15 days if you take the higher dose.  The manufacturer does not sell its products directly to their consumers, and therefore you must purchase from a third party seller. One seller we researched had one bottle for sale at a price of $35.93, two bottles for $80.99, and a four pack of bottles for $149.99.  When you calculate the per bottle cost, the price actually increases when you purchase multiple bottles at once, which is the opposite of what we typically see. Also, this price, even for one bottle is much higher than other supplements of this kind, especially if you feel you need the higher dose.
Guarantee & Feedback
The manufacturer does claim that they care about 100% consumer satisfaction and that they guarantee a refund, credit, or product replacement if you are not satisfied with their product.  Unfortunately, there was no real information available on their website regarding this promise.
This product did have good customer reviews.  Of the 24 reviews we saw, only one was 3 stars, and the rest were 4 or 5 stars.
Our Conclusive Review About Natures Plus Triple Strength Ultra Rx-Joints
There are a few things we liked about Natures Plus Triple Strength Ultra Rx-Joints.  Not only does this supplement have a good amount of glucosamine, chondroitin, and MSM, but it also has black cherry extract to act as an anti-inflammatory.  Also, the customer reviews were fairly positive.
Unfortunately, we did find many concerns with this product.  The dosing is quite high, as the normal dose consists of four daily pills, and the extra strength dose is eight capsules per day.  The price is also extremely high. Buying in bulk, instead of offering a discount, actually increases the price even more! Lastly, while the company claims they want 100% satisfaction, they give no information on how to claim a refund, should you be unhappy with your purchase.  For these reasons, we cannot recommend this supplement to help you stop your joint pain.
Bringing you top reviews and product analysis - Consumer Advisors.