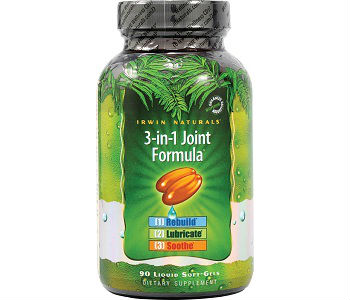 User Ratings (

0

Votes)

0
This product, Irwin Naturals 3-in-1 Joint Formula, soothes and lubricates your joints and is based on a formula to rebuild cartilage in your joints and the packaging is neat! It is a 3 in 1 formula as it not only treats all the symptoms it also treats the causes of joint pains.
Ingredients
The Irwin Naturals 3-in-1 Joint Formula has a long list of active ingredients and it also contains a few extras like St. John's bread, soy lecithin and titanium dioxide. The ingredients (per serving) are:
Vitamin E – 15 IU
Niacin – 23 mg
Folic Acid – 225 mcg
Vitamin B12 – 120 mcg
Manganese – 7 mg
Fish Oils – 3180 mg
Glucosamine Sulfate – 1500 mg
Chondroitin Sulfate – 1200 mg
Flax Seed Oil – 150 mg
Methylsulfonylmethane (MSM) – 150 mg
Indian Frankincense extract – 115 mg
Stinging Needle extract – 70 mg
Turmeric extract – 40 mg
Alpha-Lipoic Acid – 5 mg
BioPerine complex – 6 mg
One serving is no less than six capsules. So you need to take a lot of pills daily get any effect.
Dosage
You can drink the six capsules all at one time or spread out through the day. Do not exceed the recommended dosage and note the warning that the product contains a compound that can cause birth defects, so pregnant women are advised against taking this supplement.
Price
The price is 31.95USD. A bottle contains 90 capsules, which is 15 servings, so this bottle will only be enough for 2 weeks. So it is quite expensive if you have to buy two every month.
Guarantee
Irwin Naturals 3-in-1 Joint Formula is sold through third parties, so you can only contact resellers of you have a problem.
Conclusion Of Our Irwin Naturals 3-in-1 Joint Formula Review
Irwin Naturals 3-in-1 Joint Formula looks like a nice blend for treating joint pains and discomfort. It does, however, not contain hyaluronic acid, a component that is very important for healthy joints. Also, you have to take a large quantity of capsules every day, in order to see results.
Bringing you top reviews and product analysis - Consumer Advisors.