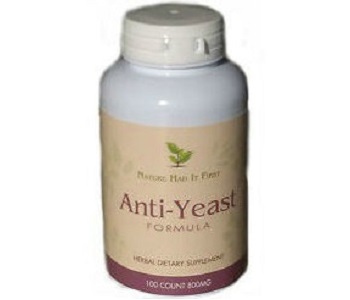 User Ratings (

0

Votes)

0
The following review is for a product called Nature Had It First Anti-Yeast. The manufacturer claims that this herbal blend might assist with yeast infections, the product is made from all organic and wildcrafted herbs. This herbal blend has been designed to work in conjunction with a diet, to end the life of pathogenic yeasts and replace normal balance in the system without doing further harm.
Ingredients
Echinacea
Pau D'Arco
Slippery Elm
Myrrh Gum
Black Walnut Hull
Goldenseal Root is used to treat cold-like symptoms. Echinacea is used to prevent vaginal yeast infections, warnings are that it might contain arsenic, selenium, and lead. Pau D'Arco is used to treat yeast infections from Candida. Slippery Elm is used for the treatment of infections of the urinary tract. Myrrh Gum is used for the treatment of thrush and various other issues. Black Walnut Hull is used for the treatment of UTI or urinary tract infection. Unfortunately, we have to say that this formula does not comply with the standard of extensively researched ingredients proven to treat yeast infections as it does not contain Undecylenic acid or probiotics such as Bacillus coagulans.
Dosage
One capsule to be taken with breakfast and one capsule to be taken with dinner.The dosage may be increased after thirty days to three capsules per day.
Possible Side Effects
It will not be advisable for expectant or breastfeeding mothers to consume Black Walnut, as the components can change the developing baby's genetic material, and may have negative effects on the developing baby. Pau D'Arco, if taken orally may cause toxicity.
Price
One container of 100 capsules available at a price of $21.50, unfortunately, we could not locate where this product could be bought from, as it has been withdrawn from certain third-party retailers. The manufacturer's website gives an error when the consumer is busy doing a purchase.
Guarantee & Feedback
After thorough research, we are unable to find any guarantee from the manufacturer and causes us to wonder if the manufacturer is only protecting itself and not the consumer. Needless to say, are there no consumer reviews to be found either.
Our Conclusive Review About Nature Had It First Anti-Yeast
As we have reviewed Nature Had It First Anti-Yeast, we liked the fact that the manufacturer has opted for all organic and wildcrafted herbs. However, since there are potentially dangerous side effects and there is no indication as to where to purchase this product online as well as the manufacturer's nonexistent guarantee, we would rather recommend an alternative manufacturer.
Bringing you top reviews and product analysis - Consumer Advisors.