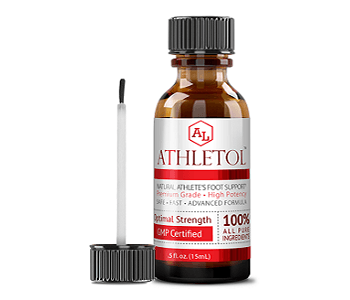 User Ratings (

0

Votes)

0
We are delighted to have investigated Athletol in this review. This treatment is truly one of a kind and is amazingly thorough in comparison to other Athlete's Foot treatments. Athletol is designed to work in a number of ways. It addresses the symptoms of Athlete's Foot to provide relief and prevent spreading and it reduces swelling to promote healing. It contains antifungal agents that penetrate down to the deep layers of skin to eradicate the source of infection and it works to heal wounds and hydrate skin. We look at the full effects below and if you would like to know more about them then read on.
Ingredients
Mineral Oil
Undecylenic Acid, USP (25%) – A potent antifungal agent that comes from castor oil that is at a 25% concentration
Sweet Almond Oil
Tea Tree Oil – Has antiseptic and soothing qualities that is derived from the melaleuca tree
Organic Flax Seed Oil
Aloe Vera Leaf Extract – Speeds up the healing of wounds and soothes irritation
Tocopheryl Acetate – An absorbable form of Vitamin E, which restores skin tone and keeps skin hydrated
Canola Oil
Bee Propolis Extract – Aids healing of skin, reduces inflammation and has antibacterial qualities
Menthol – An anti-inflammatory and analgesic agent that comes from mint plants
Walnut Oil – Has antibacterial and astringent traits
Camphor – Anti-itching agent
Clove Bud Oil – Anesthetic, analgesic and antiseptic agent
Chia Oil
Lavender Oil – Has antibiotic abilities
Lemongrass Oil
Manuka Oil – Has triketones, which is an antifungal that boosts the number of critical healing cells.
Athletol contains a blend of essential oils that help the antifungal agents to be absorbed into the skin.
Dosage
Using the applicator brush attached to the lid of Athletol, apply the product two to four times to the affected area daily.
Possible Side Effects
In some cases, rash or irritation may occur and if this happens, you should cease use of Athletol. If ingestion accidentally happens then you should drink water and seek attention from a doctor immediately. If you get the product in your eyes then they should be rinsed out thoroughly with water and medical attention should be sought.
Price
A 15ml Athletol bottle sells for $49.95. Two 15ml Athletol bottles sell for $69.90. Three 15ml Athletol bottles sells for $95.85. Four 15ml Athletol bottles sell for $111.80. Five 15ml Athletol bottles sell for $124.75. Six 15ml Athletol bottles sell for $139.80.
Guarantee
The manufacturer of Athletol offers a money back guarantee for 60 days. Opened or unopened bottles can only be shipped back before the end of the 60 days after customer service has been contacted for a Return Number and address. This Return Number should be affixed to the outside of the package or placed inside of it with your name and address also included. Product issues should be reported within 30 days of purchase to have a chance of a refund. Displeasure regarding Athletol seems highly unlikely, as the testimonials about it are exceedingly positive. Customers have been greatly pleased with the results this treatment has had and so it appears to be a very effective one.
Conclusion Of Our Approved Science Athletol Review
Athletol is a powerful antifungal treatment made with natural ingredients making it a wonderful alternative to many of the over-the-counter treatments made with synthetic ingredients. With Athletol, you know what is in it, what it does and that the ingredients are safe to use. It is manufactured by the best standards as is proven by its GMP label and the treatment is pure rather than adulterated by other chemicals. It comes with a guarantee that has very little restriction and a reasonable time limit. The price for Athletol may seem steep compared to many non-prescription treatments you can get but the truth is that many over-the-counter treatments are watered down, cause further irritation and do not treat the fungal infection effectively. Therefore, buying these products because they are cheap is false economy, as they do not work. With Athletol, you know that it does what it says and when you buy six bottles, the price per bottle is almost as low as many over-the-counter treatments. Athletol may help with your Athlete's Foot.
Bringing you top reviews and product analysis - Consumer Advisors.